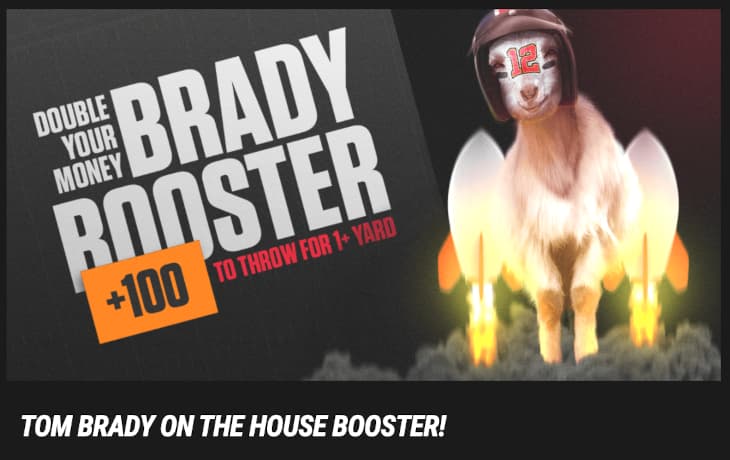 The new NFL season has started and we can't wait to see what it will bring. One thing is for sure, Tom Brady is going to be one of the players in the spotlight. Obviously fans and other teams will be following him closely, but let's not forget the bettors. You can bet on Brady's team Tampa Bay Buccaneers, but there are some specific Tom Brady odds as well.
Betting for a team is exciting but it gets even more thrilling when you bet on a person to accomplish something specific in a certain game. One of these interesting offers is PointsBet sportsbook's boosted Tom Brady odds. Read on and find out how you can easily double your money by trusting Tom Brady to do what he does best – throw ball.
PointsBet offer – Brady throws for 1+ yard
This Tom Brady offer has expired, but PointsBet will not let you down. They always have multiple promotions going on. Click the button below to find the latest promos. Promotional Terms & Conditions Apply- see the Signup page for more information.
PointsBet is one of the fastest growing sportsbooks in the United States and it's not a coincidence. Their PointsBetting system is one of a kind and they know how to offer players appealing promotions. The Brady Booster promo is a perfect example of a no brainer offer.
Would you say it's likely that Tom Brady will throw for 1+ yard in a game? Yeah, we would say so. Well, PointsBet will double your money when that happens in the first week's game against the Cowboys. All you need to do is to sign up for PointsBet and claim your PointsBet welcome offer.
The Brady Booster can be found in the PointsBet Booster Hub. So, if you think Tom Brady still has what it takes to throw for over one yard, you should definitely take these odds and bet on Brady. With the winnings, you can continue betting on your favorite teams or look for other Tom Brady odds.
Dallas Cowboys vs Tampa Bay Buccaneers odds
In addition to the Brady Booster promotion, PointsBet is offering a great selection of odds for the upcoming Dallas Cowboys vs Tampa Bay Buccaneers game. This match has some fixed odds but if you want to take it up a notch, hit the PointsBetting tab and you can find a dozen of more specific odds to bet on.
The Dallas Cowboys vs Tampa Bay Buccaneers odds include for example featured wagers and multipliers as well as some odds for timing and total scores. Although, if this all sounds a bit too complicated, let's get back to the boosted Tom Bardy odds. Betting doesn't get easier than that. Just take advantage of your offer and win some easy money.
Tom Brady accomplishments
Just in case someone is not familiar with Tom Brady (we doubt that), here is why we think he will not have the slightest issue to throw for 1+ yard in any game.
Tom Brady
leads the most game wins list with 230 wins
has won more Super Bowls than any other quarterback has played in
has played in 18% of all Super Bowls
has thrown for average 258.2 passing yards per game in his career.
We think it's quite safe to say that Brady can handle this task and the PointsBet promotion will be worth your time. While waiting for the game to start, you can check out Tom Brady's Instagram and see how he's preparing for the new NFL season. You can also click your state below and find more great sportsbook deals.
Must be 21+. Gambling Problem? Call 1-800-GAMBLER.