PointsBet sportsbook promo NJ
Free bets expire after 14 days
Free bets can only be used on fixed odds markets
Bonus Highlights
Up to $250 bonus in Free Bets

2 Risk-Free bets up to $2,000

4 Risk-Free Bets up to $1,000
Choose from 3 offers

Download mobile App

Claim you favorite offer now
PointsBet introduces a whole new kind of betting system with great welcome promotions. Choose the best offer for you from 3 different options.
Despite being relatively new in the sports betting industry, Pointsbet sportsbook has managed to kick up quite a storm. The company has garnered lots of interest with its distinct point betting system, which differs from fixed odds. In this PointsBet sportsbook promo NJ review, you'll learn more about the offers available.
The PointsBet sign-up bonus is a fantastic prize for new customers. PointsBet NJ also offers a selection of rewards in the form of tiered deposit bonuses, risk-free bets, and other interesting features, which you can claim using the PointsBet sportsbook promo.
Continue reading about PointsBet sportsbook promotions or jump to a specific topic by clicking the links below:
PointsBet welcome bonus – exclusive NJ offers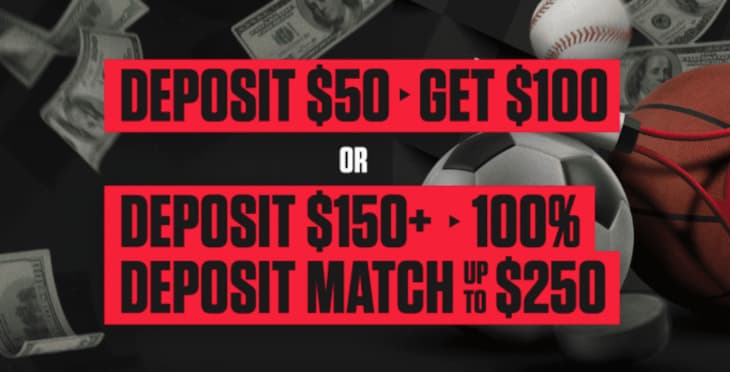 A sign-up bonus is seen as an incentive for new players who want to join online casinos and sportsbooks in New Jersey. This bonus can come in the form of cashback, free spins, and free bets. The PointsBet welcome bonus is a reward system that applies to players in New Jersey.
Currently, PointsBet's exclusive offer for NJ players consists of three types of rewards including a tiered deposit bonus, four risk-free bets, and two risk-free bets. When choosing said bonuses, players must enter specific promo codes for each one. These PointsBet bonuses can be claimed after the initial deposit.
What is a PointsBet sign up bonus?
The current PointsBet sign-up bonus is divided into three types, and players are allowed to choose only one. After registration, just before you make a deposit, you'll be required to choose the bonus that interests you most.
Do I need a promo code to claim a PointsBet bonus?
The PointsBet sportsbook promo code is constantly changing throughout the season, and customers may redeem it after registration. The code allows players to boost their rewards when signing up with the sportsbook. It typically activates after the player has made a deposit and is ready to start betting.
You may also receive more PointsBet bonus codes via email after you've registered and confirmed your account. You need to use the following codes when claiming a bonus:
PointsBet deposit bonus promo code – FLIPVALUE

With the first PointsBet deposit bonus you can get up to $250 deposit match in Free Bets when using the promo code FLIPVALUE. This selection is a tiered bonus depending on your deposit and the PointsBet value of your bet:
Deposit $50 and get $100 extra
Deposit $150 or more and get a 100% match up to $250
This offer is a PointsBet deposit match bonus available only to new players in New Jersey. To be eligible for this bonus, you have to make the minimum deposit required for the tier.
Get up to $250 match with code FLIPVALUE
PointsBet risk-free bet promo code – FLIPHIGH

With the second offer, you can get four PointsBet risk-free bets up to $1,000, when using the promo code FLIPHIGH. Each refund can be up to $250.
This PointsBet risk-free offer only applies to new customers, and those eligible are entitled to four refunds. If your first and second PointsBetting Bet loses, you'll get two refunds worth up to $250 in Free Bets. Additionally, if the first and second fixed-price wager loses, you'll receive another two refunds worth $250 each in Free Bets.
Before you claim this PointsBet high bonus, be sure to check out the terms and conditions first.
Bet $1,000 risk-free with code FLIPHIGH
PointsBet risk-free bet promo code – FLIPMAX

In the last welcome offer, you'll get two PointsBet risk-free bets up to $2,000, if you use the promo code FLIPMAX. Losing your Fixed-Odds Bet means you'll receive a $500 refund in Free Bets. Additionally, if you lose your first PointsBetting Bet, you can get up to $1,500 in Free Bets.
Those eligible for this PointsBet max bonus are permitted two refunds, one worth $1,500 in Free Bets for the first PointsBetting wager, should it lose. The other worth $500 in Free Bets, for the first fixed-price wager, should it lose.
Bet $2,000 risk-free with code FLIPMAX
PointsBet no deposit free bets, offers, and bonuses
Currently, PointsBet no-deposit bonuses include rewards for inviting a friend, boosters for placing bets, and PointsBet no-deposit free bets. If you're an existing customer of the sportsbook then these PointsBet offers will apply to you.
PointsBet promotions – ongoing
Currently, the PointsBet promotions are No Juice NFL Lines, Twilight Boosters, The Big Mahomes, Meme Time Boosters, and Karma Kommittee. These PointsBet sportsbook promotions change periodically, but these should give you an idea of what they normally offer.
You can find all the ongoing PointsBet Promotions from their website under the 'Promos' tab.
Review – best PointsBet bonus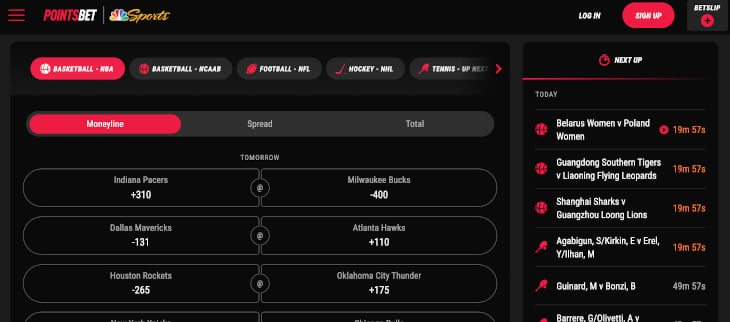 The Pointsbet NJ review should help you in deciding if the bonuses live up to your expectations. Other than providing an efficient marketplace to its customers, the sportsbook also has fantastic odds and promotions.
The company's selection of sign-up offers is one of the best PointsBet bonuses and the first of it's kind that we've seen. Other betting sites offer welcome packages that typically consist of four deposits, however, it leaves little room for preference.
The three options in the welcome bonus allow the player to choose what is most beneficial to them and what they can afford. Read more about PointsBet FLIPVALUE, FLIPHIGH and FLIPMAX bonuses.
PointsBet also features a reward system where your wagering activity earns points and you can redeem them for bonus bets. For every wager you earn points in the following ways:
Fixed-odds wagering – earn one point for every $5 wagered
Parlay wagers – earn one point for every $1 wagered
PointsBetting wagers – earn one point for every $1 won or lost
FAQ – PointsBet sportsbook promos in New Jersey
Few questions and answers about PointsBet sportsbook promotions:
What are the PointsBet NJ welcome bonuses?
There is a selection of three bonuses including tier deposit bonuses and risk-free bets. Deposit bonus offer gives you a chance to choose how much you want to deposit and the bonus value depends on that. Risk-free bets are also for different values and you can choose the option that suits you best.
What is the PointsBet sportsbook promo code?
There are three promo codes which are FLIPHIGH, FLIPVALUE, and FLIPMAX. You can choose one of the promo codes and all offers are only available for new players in New Jersey.
How can I choose from several deposit match bonuses?
If you choose the first option and use the FLIPVALUE promo code, you can get a tiered deposit bonus. This means that the bonus amount depends on how much you deposit. All the bonuses will be credited in free bets.
What are PointsBet deposit options?
PointsBet New Jersey currently offers credit/debit cards, PayNearMe, ACH eChecks, and the PointsBet Card as deposit options. With the minimum deposit as $5 and the maximum $50,000. All the banking options are secure, easy to use and fast.
What is PointsBet Karma Kommittee?
PointsBet has implemented the Karma Kommittee to refund its customers who've had multiple losses. The sportsbook introduced personal good karma payouts, where customers who lost more than 10 bets for the month can claim a refund of up to $100.
How to use PointsBet first deposit bonus?
Time needed: 1 minute.
Follow these easy steps and claim your PointsBet first deposit bonus:
Sign up

First, you need to register an account with PointsBet. Here you'll enter your details and receive a confirmation letter via email.

Check bonus code

The email proves that your account is now active, and if you have a promo code, now is the time to use it.

Make your first deposit

Enter the promo code before your initial deposit when you select the bonus type, to activate the bonus.

Read bonus terms and conditions

A match bonus will then be credited to your account based on the amount you deposited.

Start betting

Now that you are all set up, just find the sports and odds to your liking and start betting..
PointsBet app – is it worth installing?
The PointsBet app is fully optimized for mobile playing, and you can download it for both iOS and Android devices. Google Play Store does not allow real money betting websites, so you'll have to download the PointsBet sportsbook app straight from the website.
To use the Pointsbet sports mobile app you just need to be in New Jersey, Iowa, Indiana, Illinois, Colorado, or Michigan. The app works the same as if you were using the desktop version, as you can place real money bets and all the offers still apply.