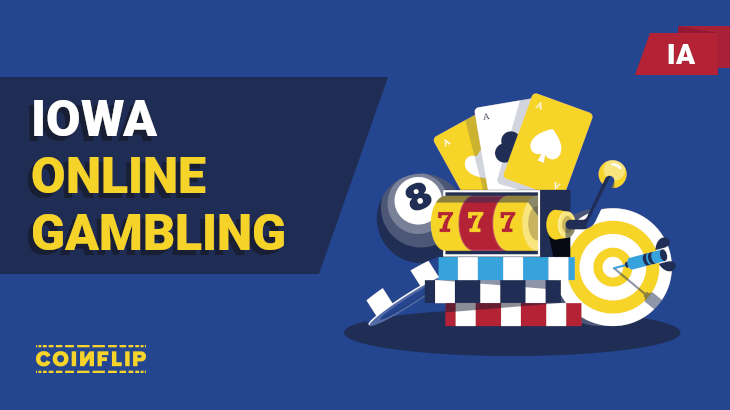 Gambling at online casinos and betting on sports are becoming more and more popular, prompting many to wonder if online gambling in Iowa is legal. The answer is yes, and like so many other states, Iowa's online gambling laws are in transition. For now, legal Iowa online gambling consists sports betting and fantasy sports betting, but we'll hope to see real money Iowa online casinos to be legalized as well.
Do you want to know more about what kind of online gambling Iowa is offering and how to find the best IA gambling bonuses? Click the buttons below to read more about Iowa online gambling bonuses and find the best Iowa online casino betting bonus for you.
Iowa's sports betting industry has been legal for many years and doing well, but betting in online casinos is not allowed. If you would like to play anyway, the best option for now is to join a Social Casino that offers the casino gambling experience, but doesn't require real money. We know that it's not the same, but it's the next best option before the online gambling laws in Iowa have been updated to include legal casino gambling.
So how do you exactly gamble without using any real money? As we mentioned Social Casinos are the answer. This type of Iowa online casino is legally accepted because it's free to play and doesn't require a deposit. You can play table games or slots in online casinos IA and even win real money or prizes, all this while using sweep coins instead of real money.
Iowa Racing and Gaming Commission – Controller of legal gambling in Iowa
Let's look at the history of Iowa gaming laws a bit. The Iowa Racing and Gaming Commission (IRGC) was established in 1983 when dog and horse racing was made legal. It administers Iowa gambling laws for sports betting and online and land-based casinos; it also keeps an updated list of licensed gambling operators in Iowa so that you have a list of legal sportsbooks to refer to.
The IRGC also controls the self-exclusion register as part of the responsible gaming initiative. Iowa gamblers can sign up to be denied access to all casinos in the state for five years (or their lifetime) if they feel that their gambling is becoming a problem.
For more information, click on this link to the Iowa Racing and Gaming Commission website and read more about the commission and its purpose.
Iowa gambling laws
All types of Iowa gambling were prohibited between 1846 and 1972. During that time, even playing bingo at the nursing home was illegal. Then in 1972, the provision was repealed, making bingo and raffles legal; the lottery was only declared legal the following year, in 1973.
The legal gambling age Iowa was raised from 18 to 21 in 1994, so now the gambling age in IA is the same as in most of the other states. There was no new legislation till 2004 when the IRGC raised taxes and banned ATMs on casino floors. The next major milestone was in 2019 when the Iowa Sports Betting Bill made betting on sports and fantasy sports legal and regulated by the IRGC.
The Iowa lawmakers have not addressed Iowa online betting yet, but there are talks about making fantasy sports daily betting legal. In light of the loosening legislation, we highly recommend that you flip the coin and shop around for the best promotions available at online casinos. Or sign up at multiple sites for every bonus that caught your eye while shopping through the offers available.
Bonuses for online gambling in Iowa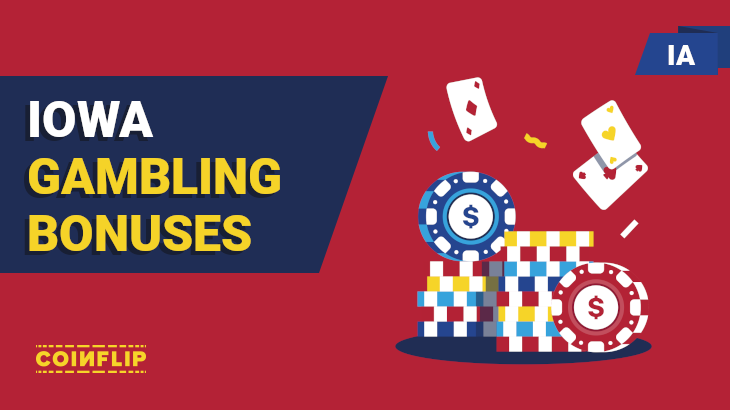 There are many Iowa gambling bonuses available; sportsbooks offer many different types of bonuses so that you can choose the one that best suits your needs and wallet. If you're playing online in Iowa, sports betting bonuses are usually similar to the most popular styles below. Of course, terms and conditions apply to all Iowa betting bonuses and promotions, so make sure you read them first before giving the ok.
First, there is the matched deposit type of bonus, which is very popular with Iowa online sportsbooks and casinos. The operator will match your deposit up to a limit; this is usually set at about $1,000. Other quite similar option is an Iowa sports betting second chance bet, where the sportbook gives back your initial wager if your bet loses. This kind of offer is also usually capped at around $500 or more.
Then there is the Iowa sportsbook no-deposit bonus, where the betting site gives a player about $10 to $30 to bet with. And for casino players, there might be free spins offers or free money to play with. Both of these offers are usually only for new registering players and they can be claimed without a deposit, so you'll get to try the gambling site first and see if you like it.
Iowa online gambling news
We are all about the casino and sportsbook bonuses, but we also want to keep gamblers updated about the latest Iowa gambling news. We are collecting the most interesting Iowa casino news and letting you know if there are special events and promotions coming at Iowa online casino sites.
Sportsbooks are also creating these exceptionally good offers whenever there is a season finale coming. These offers are always available for a limited time so by following our Iowa sports betting news, you can stay updated on the most recent promotions. Click the button below to find the latest Iowa gambling news.
Iowa online gambling news
FAQ – Iowa online gambling
Is online gambling legal in Iowa?
If you are wondering that can you gamble online in Iowa, the answer is yes. Betting on sports is legal and you can find a list of Iowa sportsbooks at the top of this page. However, online casino gambling for real money is not allowed, and the next best option for Iowa casino gambling is using social casinos.
What is the legal gambling age in Iowa?
The minimum Iowa gambling age is the same as in most of the other states, 21; this includes sports betting, lottery, charity bingo, and casinos. Tribal casinos are also regulated differently, but if you are looking to place a bet with your mobile phone, 21 it is.
Is online sports betting legal in Iowa?
Online sports betting is legal and offered to Iowa residents and visitors from many land-based and online casinos. Iowa's laws are amongst the most permissive in the Midwest due mainly to the historical influence of the Mississippi River's gambling boats.
Is online casino gambling legal in Iowa?
Online casino gambling is not explicitly illegal in the existing statutes of Iowa; however, gambling for real money is not allowed. We recommend using Social casinos and following the local gambling news since it looks like online casino gambling becoming legal at some point, is not completely ruled out.
Must be 21+. If you or someone you know has a gambling problem, call 1-800-BETSOFF.