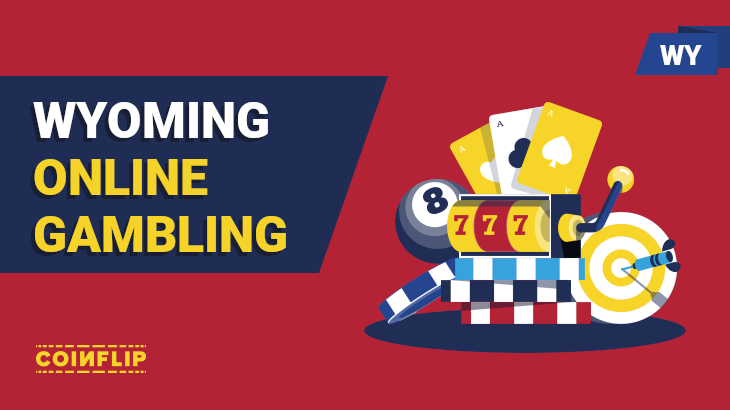 Wyoming online gambling is now legal and allows online sports betting. If you're located in the Equality State, the world of legal online gambling is at your fingertips. In 2021, a bill was signed into law, surprising all and changing the state of gambling for Wyomingites. Dive in and find the best Wyoming online gambling sites below.
Offer valid for new players in WY
Minimum deposit $10
Bonus bets must be used within 7 after crediting
Bonus -
Deposit match $1,000
First bet offer
Download app
Join loyalty program
Sign up today
Licensed & verified
Reviewed by experts
21+
T&Cs APPLY
mastercard

visa

paypal

paynearme
mastercard

visa

paypal

paynearme
Licensed & verified
Reviewed by experts
21+
T&Cs APPLY
Why was the launch surprising? Well, in this state, unlike others that are pro-legalization, even commercial casinos are not regulated (there are only four tribal casinos), and a sports betting bill was rejected just one year earlier. Thus, attitudes and regulations towards sports gambling Wyoming are changing rapidly.
If you're ready to dive in, start getting a fairer flip of the coin, and discover everything about Wyoming online gambling, keep reading. On this page, we'll be covering exactly what you can and cannot bet on in this state, how to get the best bonuses and which WY gambling operators are live.
Not that interested in law stuff? Click the links below and jump straight to the fun part, Wyoming gambling bonuses.
Now, let's look into those intriguing details of Wyoming gambling laws.
Wyoming online gambling laws
Like many other states, Wyoming has a conservative stance on gambling, hence the lack of commercial casinos in the state, and up until 2021, there was little movement in this respect.
At the moment, only two Wyoming online gambling activities are legal:
Online sports wagering
Participation in fantasy sports contests
Both industry experts and lawmakers did not see the 2021 bill coming as just the year before a sports betting bill was defeated in a WY House. The new vote didn't go smoothly either, and it actually took two rounds to finally pass the bill and legalize online gambling in Wyoming.
On the other hand, it doesn't matter how we got there. The most important thing is that Wyoming sports betting bill passed and WY sportsbook sites have started to launch. Now all bettors of legal age (Wyoming gambling age is 21) can enjoy Wyoming sports gambling online.
While there's no word currently on legalizing WY online casinos, as with most states that regulate sports betting, the expectation is that once the state becomes accustomed to the benefits of gambling taxes and employment opportunities, online casinos may become regulated.
Current Wyoming gambling laws allow for you to:
Visit and play at Tribal Casinos, which have been regulated since 2006.
Enjoy poker rooms.
Lay pari-mutuel horse racing bets (legalized in 1967).
Play the lottery since 2013.
From September 2021, play at any of the state's legal and licensed online sportsbooks.
WY gambling with cryptocurrency
Wyoming state has made some unusual choices with their online gambling laws. First was the fact that sports betting is only allowed online. Other thing is that there are no Wyoming gambling taxes charged at the state level. This means that federal tax rates apply, and net winnings from Wyoming online gambling activity should be declared on yearly tax returns.
Interesting fact: Wyoming is the first state to allow cryptocurrencies, like Bitcoin, in online gambling

Team Coinflip
However, one of the most exciting elements of the new law is that it also allows gambling with "digital, crypto and virtual currencies" as long as there is the ability for cash conversion of the currency. This is exceptionally forward-thinking and shows that Wyoming regulators are in it for the long run, putting things in good stead for further regulation.
Since Wyoming online betting is still quite fresh, there are no WY crypto sportsbooks available yet. But, as we mentioned, WY is the first state to legalize virtual currencies in betting and it might just take a while for sportsbook sites to adapt to this new opportunity. We are optimistic that Wyoming bettors can soon place a sports bet with crypto.
Wyoming Gaming Commission
The Wyoming Gaming Commission was created in 2020, and it is responsible for regulating operators, responsible gambling, and the general iGaming infrastructure in the state. According to the Commission:
"The primary mission of the Wyoming Gaming Commission is the protection of the wagering public and the health, safety, and welfare of the participants in all lawful gaming and pari-mutuel activity."
The commission awards sport betting licenses and ensures that operators provide safe, secure, and fair service. There will be up to five licensed providers in WY. You can click here to find the WY sportsbooks that are already live in the state.
Wyoming sports betting news
At Coinflip, we're on top of our industry, and we love bringing you the latest good WY gambling news. This usually comes in the form of new Wyoming gambling bonuses, seasonal specials, epic deals, or information about new sportsbooks joining the fray.
If you're keen to keep your ear to the ground, get the best bonuses, and generally know what's happening in Wyoming sports betting news, check-in regularly with our Wyoming sports betting news listing. We'll collect the top exclusive WY betting bonuses and latest tip bits of industry news and list them there.
Wyoming gambling bonuses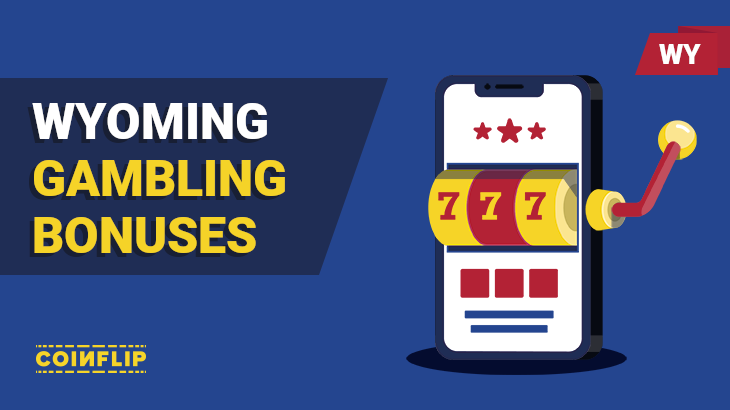 One of the primary reasons that online gambling in Wyoming trumps in-person betting, comfort aside, is the fact that you can score loads of great bonuses, especially in new markets. The best WY sportsbooks make every bet count and include offers from loyalty and reward clubs. The WY betting bonuses vary from real-life resort benefits to betting boosts, better odds, free bets, prize draws, Parlay deals, and so much more.
Wyoming gambling bonuses start from the moment you register with a site, with most operators offering a match deposit bonus or second chance first bet. From there, the focus is on loyalty rewards and stimulating repeat deposits with bet deals and loyalty clubs.
If you pick a platform that's right for you, there's a lot to be earned from Wyoming gambling bonuses. Some deals are incremental, offering perhaps a free bet if you wager $10 on Fridays or loyalty points for every $1 you bet that can later be exchanged, while others target high rollers with deals that cap out at $1,000 and big bet boosts.
This is one of many reasons why checking out different Wyoming sports sites and casinos before picking one to join is important. What's more, the conditions attached to promotions, like time limits, odds rules, or wagering requirements, also change per operator.
For more details on the types of Wyoming betting bonuses you can get in, check out our corresponding guides via the links at the start of this page. For the betting sites already live, our Wyoming sportsbook reviews take an in-depth look at precisely what you can get from each site.
FAQ – Online gambling WY
Is online gambling legal in Wyoming?
Online sports betting became legal in WY when HB 133 was passed in 202 and WY sportsbooks are live and taking bets. Wyoming online casinos are not currently permitted. If you want to enjoy casino games, you're best heading to a social casino; these sites do not offer real money stakes.
Who regulates gambling in Wyoming?
The Wyoming Gambling Commission regulates gambling in this state. The Commission was established in 2020 to regulate gambling and ensure player safety from gambling harms. You can find out more about the Commission and what they do by clicking here.
Is sports gambling legal in Wyoming?
The legal online gambling Wyoming players can enjoy are sports gambling, fantasy sports, and pari-mutuel in-person betting are legal in WY. The legal gambling age in Wyoming is 21. Online casinos are currently not regulated, but you can gamble at any of the four tribal land-based establishments.
Are there online casinos in Wyoming?
No. If you want to play casino games, you can visit any of the state's four tribal land-based casinos or visit a social casino, which provides slot games, but without real money stakes; instead, you'll play for virtual coins that have no monetary value.