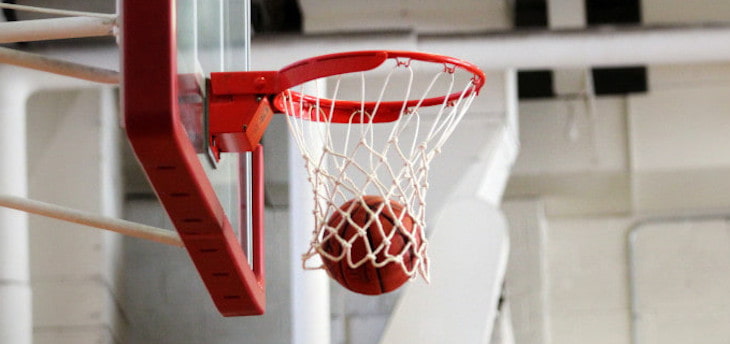 March is one of the most anticipated months in betting, and the reason is The College Basketball Tournament. The team winning this tournament is crowned national champion, and, understandably, Division I National Championship betting is a huge draw for fans.
Gambling providers take advantage of so many games being played in a short span by providing basketball betting promotions. If you're thinking about betting on March basketball in 2023, read below to find out about the best college basketball promotions available.
March Basketball Championship promotions 2023
In addition to the upcoming March Basketball Championship promotions, many sportsbooks in NJ will also allow you to use standard bonuses on these games as well. Sites with excellent welcome bonuses include PointsBet and Unibet, which you'll find discussed in greater detail below.
When it comes to these basketball promos, some of the the biggest operators like BetMGM and PointsBet have announced their March Basketball 2023 promotions. Last year we saw some extremely nice bonuses and boosted odds from almost all the sportsbooks, so let's see what they have prepared for us this year.
PointsBet multiple Second Chance bets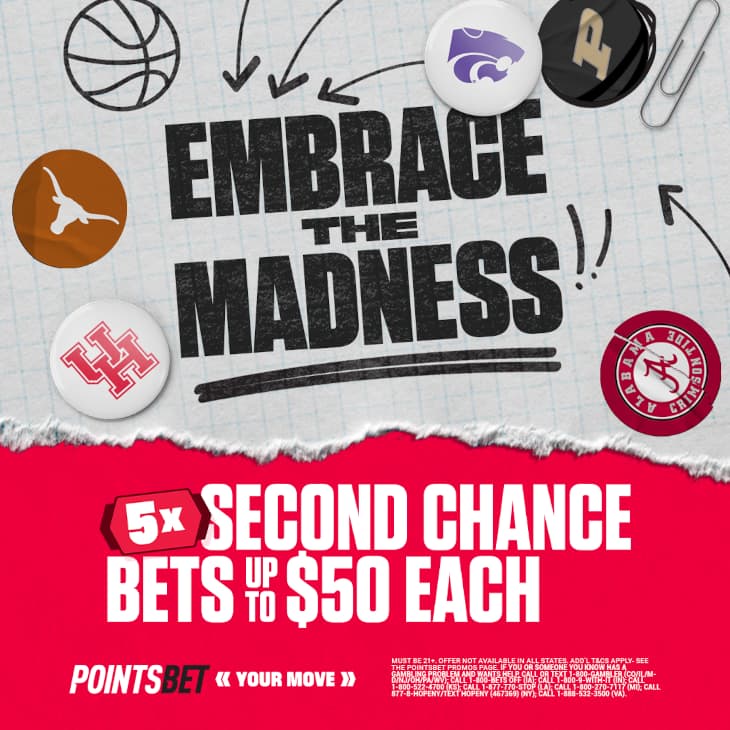 PointsBet Championship game 2023 offer is here and you can get it more than once! You can use your Second Chance bonus up to 5 consecutive days. Just place a bet up to $50 and if that be loses, you'll get your wager credited back to you as a Bonus Bet. Easy, just click the button below and start your March betting with PointsBet.
Promotional Terms & Conditions Apply- see the Signup page for more information about this PointsBet basketball promo.
Unibet sportsbook and casino bonus

Unibet College Basketball 2023 promotion is also here and we have good news for everyone who likes sportsbook and casino games. Now all players in Pennsylvania can join Unibet PA and enjoy $500 first bet insurance for sports and a $10 free casino money on top of that. This Unibet basketball bonus activates when you create your account with promo code MARCH.
Unibet is one of the best options for receiving a bonus on College basketball. For the tournament specifically, you'll find multiple promotions on its website. Unibet also has a welcome offer for all their new players even if you are not from Pennsylvania.
Unibet sportsbook is also loaded with other promotion depending on the state you play in. If you can't take the Division I National Championship 2023 offer, just click the promotions tab at Unibet website and choose your favorite from bet boosts, insurances and more.
BetMGM basketball promo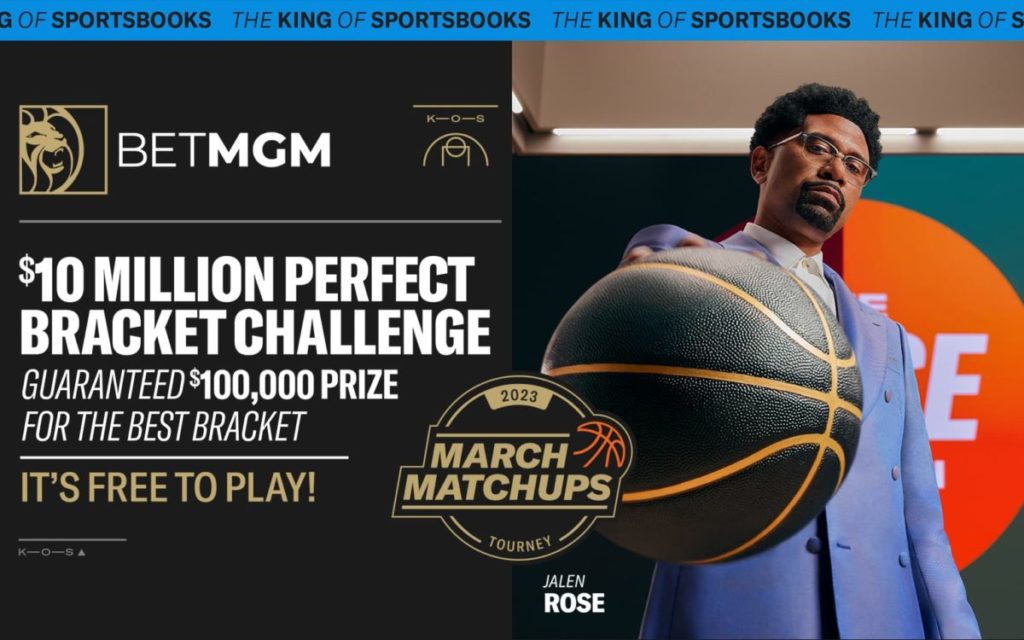 BetMGM sportsbook is running the famous a March Matchups promotion again. This year their offer is available for everyone and is completely free to play. The BetMGM March Matchups offer is called a $10 million perfect bracket and the player who creates the best bracket will win $100,000 prize.
Click the button below, join BetMGM sportsbook and check out the full terms and conditions for this fun March Matchups promo 2023.
The best of College Basketball Tournament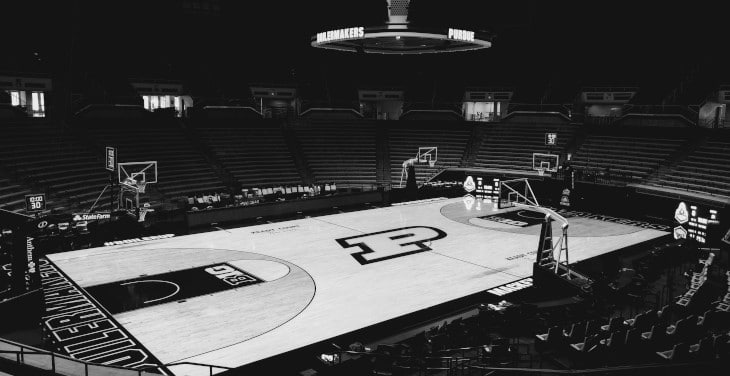 The College Basketball Tournament is a celebration of everything we love about sports. It features the best players on the best teams, with everything on the line.
This often leads to the year's top sporting moments. Additionally, due to its popularity, The Championship Game has some of the best bonuses for a limited time in all sportsbook gambling.
Best March Basketball odds
Now that you have a better understanding of what it is, we'll look at which teams have good odds to win the March College Basketball Tournament in 2023. The odds themselves will vary depending on the bookmaker you choose, but some of the better sites in this regard include PointsBet and Unibet.
Looking at some of these top sites, you will find similarities in favorites and underdogs. At the moment, the teams with the best March college basketball odds in 2023 are Alabama and Houston. Of course these will change as the season goes along and you can check out the current situation for example at the PointsBet website.
Best March basketball bonus for betting
Although many sites will offer a March basketball betting bonus, not all promotions are created equally. Keep in mind that you may find a College Basketball betting bonus or two that differ from round to round.
The best bonus for betting on The College Basketball Championship Game 2023 is yet to come, but It's also good to keep i mind that you can bet on multiple sportsbooks and take advantage of several different offers.
Best College Basketball Tournament players
Basketball is such an exciting sport to watch and bet on live due to the overwhelming talent of its top players. Some of the best College basketball players to keep an eye out for this year include
Alabama's Brandon Miller
Houston's Marcus Sasser
Indiana's Trayce Jackson-Davis
Purdue University's Zach Edey
The best College Basketball Championship Game players of all time went on to become NBA legends. This list includes three-time champion Lew Alcindor, more colloquially known as Kareem Abdul-Jabbar.
FAQ – March basketball betting
What is The College Basketball Tournament?
It is a 68-team tournament that crowns the champion of college basketball. It's played every spring in the United States, and most of the games are played in March and the Final game is in the beginning of April.
When is The College Basketball Tournament?
It begins in early March and concludes in the first couple of weeks in April. In 2023, the first round is set to begin on March 14th, and the Final is slated for April 3rd.
How long does a college basketball game last?
College basketball games are split into two 20 minute halves. Including stoppages and commercials, each game runs anywhere from 90 minutes to over two hours. The College Basketball Tournaments scores are expected to range from 60 to 70 points per team each game. Teams with the best basketball players will score up to 80-85 points a game.
How to bet on The College Basketball Tournament?
You'll find a few different avenues for betting on March basketball tournamnet. You can bet on individual games and outcomes, including over/under spreads and player statistics. Additionally, you'll be able to place outright bets on the tournament champion, as well as bracket challenges. These challenges will vary depending on the bookmaker you are using.
What is the best March basketball betting offer in 2023?
All sportsbook are currently offering great bonuses that can be used when betting on the College Basketball Championship. Just select your state from the menu and find a list of best sportsbook bonuses in your home state.
Must be 21+. Gambling Problem? Call 1-800-GAMBLER.