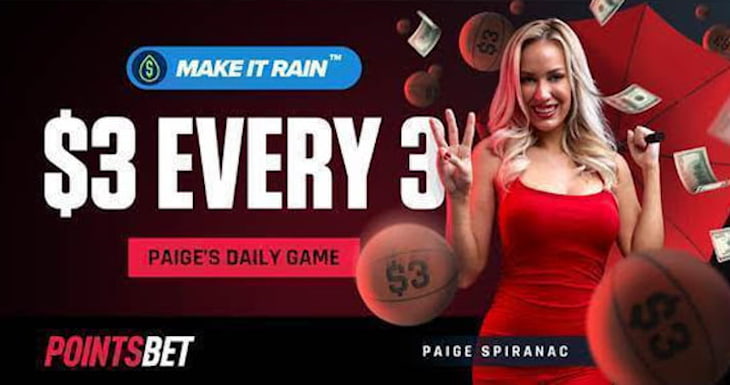 This PointsBet Paige Spiranac offer has expired.
Australian sports betting giant PointsBet is reaching new heights with Paige Spiranac as its newest brand ambassador. Spiranac, a former professional golfer, is a massively popular social media personality. She boasts over 7 million followers across various social media platforms.
We expect the collaboration between these two, PointsBet, Paige Spiranac, to grow PointsBet's social media presence. It'll achieve this through Spiranac's blend of sports knowledge and golf experience, as she connects PointsBet with her social media community.
If you call Paige Spiranac hot stuff, then you can be sure that she brings that heat to PointsBet customers in the form of equally hot offers. Make sure you're a registered PointsBet user to avail yourself of these promos. You can also give your sports betting a boost with these other PointsBet offers in New Jersey.
For more promotions, check out our NJ sportsbook bonus and NJ online casino bonus sites and get the best offers in New Jersey.
PointsBet – Make it Rain with Paige Spiranac
It's raining Bonus Bets in the PointsBet promo, Make it Rain, with superstar Paige Spiranac. Each day, Spiranac will select a college basketball game, which she'll announce as the Game of the Day.
So, how does Make it Rain work? To enter this promotion, bet at least $50 on the spread on the selected game with PointsBet. For each three-point field goal your team scores, you receive $3 in a PointsBet Bonus Bet.
You must place your bets before the game starts, and you may not bet on both sides of the spread. If you're still uncertain about the promo, maybe this Paige Spiranac video will make it clearer.
To participate in this promotion, you must be a registered PointsBet customer. If you haven't already signed up, click here to open PointsBet website and follow the prompts to register. Once you've signed up, you can fund your sportsbook account and place your bets on Make it Rain.
This Make it Rain campaign has ended, but take your PointsBet sportsbook promo and click the button below to claim it. Promotional Terms & Conditions Apply- see the Signup page for more information.
Paige Spiranac's Game of the Day on PointsBet
Paige Spiranac will announce her PointsBet game of the day for the Make it Rain promo each day at noon. She'll select from the hottest picks of the day's college basketball match schedule.
The games of the day are highly contested and feature prominently on the PointsBet sports betting platform. Make it Rain is the first of what we hope will be many Paige Spiranac sports promotions with PointsBet. This campaign runs till Selection Sunday.
Who is Paige Spiranac?
Spiranac was born in Colorado in 1993. Athletic from a young age, she turned to golf when a knee injury cut her gymnastics career short, dashing her hopes of participating in the Olympic Games.
She competed on Colorado's junior circuit and won five out of seven tournaments. Her promising career earned her a scholarship to the University of Arizona. She competed in three events for the Wildcats before transferring to San Diego State University.
Spiranac's success improved the next few years, culminating in the San Diego Aztecs' first Mountain West Conference Championship in her senior year. This was the first time in the school's history that it had achieved this feat.
The post-college move to professional golf came after Spiranac won the Colorado Women's Golf Association Match Play Championship. This victory saw the Paige Spiranac Instagram following skyrocket to over 100,000 followers, launching her into the influencer circle.
She began competing on the Ladies European Tour (LET), and the Cactus Tour. Spiranac chose to focus on her role as an influencer on social media, after missing out on a spot to play on the LPGA's professional circuit.
Spiranac actively interacts with her millions of social media followers. She broadcasts episodes on IGTV and her YouTube channel, where she talks about golf, fitness, and life experiences.
These are also platforms where she shares tutorials and demonstrations with her viewers. Some of the popular posts you'll find are the Paige Spiranac golf swing demonstration, golf drills, and fitness tips.
There are exciting times ahead for PointsBet with Paige Spiranac as a brand ambassador for this sports betting powerhouse.
Must be 21+. Gambling Problem? Call 1-800-GAMBLER.