Unibet launched in New Jersey in 2019, 22 years after it first hit the betting industry. Unibet NJ was its first foray into the United States once sports betting was legal. What started as a small one-person operation quickly developed into the gambling powerhouse we know today.
Millions of bettors worldwide actively use Unibet sportsbook and enjoy the wide range of sports, extensive betting markets, and attractive bonuses. NJ players should take advantage of the Unibet sportsbook offer when registering. The welcome offer gives you the chance to experience Unibet sports betting with a bonus.
Read more about second chance bets and other Unibet sportsbook offers in New Jersey or jump straight to a specific topic by clicking the links below.
What do I get with Unibet sports welcome bonus?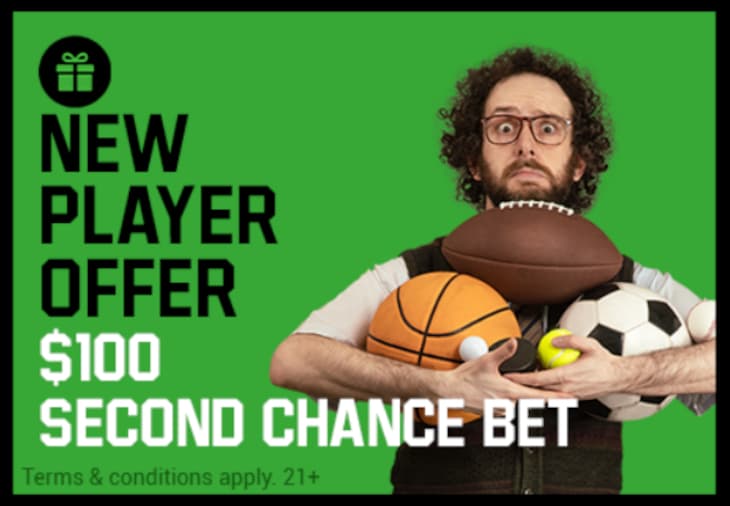 The Unibet welcome bonus is all about easing you into sports betting. When you register, Unibet offers you a second chance for your first bet if it loses. It's an attractive offer that will certainly familiarize you with betting on Unibet sports.
There are no wagering requirements for this Unibet bonus, although some basic terms and conditions apply. Ensure that you read these before committing to the welcome offer or any of the Unibet bonuses.
Unibet sign up offer
Currently Unibet sportbook does not have a specific sign-up bonus, but you can take advantage of their Second Chance first bet. This offer is valid for your first bet with Unibet sportsbook.
If you are looking for casino bonuses on Unibet, check out our Unibet Casino review and claim a 100% deposit sign-up bonus for casino slots.
Unibet Second Chance bet
The Unibet Second Chance bet is valid for your first real money bet. The minimum cash bet required is $10. Should this first bet lose, Unibet refunds you the value of your stake up to a maximum of $100.
Get your Unibet offer here
You can make your Unibet Second Chance bet on any sports market, it just needs to be made with cash, not with bonus credit. If your wager is a push or you win, the Second Chance bonus is negated. If you lose, the sportsbook returns your entire stake of up to $100 within three days.
There are no wagering requirements linked to this Unibet sports promo. As with the bonus bets, players must be 21 years of age or older and present in NJ when wagering.
Ongoing promotions at Unibet sportsbook
Once you've made good use of your welcome bonus, there are other ongoing Unibet sportsbook promotions to keep you busy.
If you enjoy parlays, boost your winnings by up to a whopping 50% with the Level Up Parlay Booster. Use this Unibet promotion as many times as you like to inflate your winnings.
There's more excitement each week in the form of the Live Boost of the Week. Wager on live-action in the week's eligible leagues, and you receive a boost for winning bets.
While Unibet promotions are ongoing, Unibet may at any stage surprise its customers with additional promotions and bonuses. Terms and conditions apply to all offers, so be aware of these before committing to any promotion.
Unibet sports bonus bets and no deposit bonuses
Unibet bonus bets don't come around very often, but when they do, bettors grab them enthusiastically.
While there's no specific Unibet no deposit bonus, you can participate in the Level Up Parlay Boost and the Boost of the Week without topping up your account. Each of these promotions is a great way to get some extra bonus when betting with Unibet.
As we mentioned earlier, new promotions come along from time to time, and you could find a Unibet bonus bet bonus introduced when you're least expecting it. Also, remember to opt-in for their weekly newsletter and get the best promotions straight to your email.
Unibet sportsbook promo codes and bonus codes
A Unibet sportsbook promo code is a combination of letters and numbers that offers enhanced rewards or accesses exclusive promotions or bonuses. When you have a Unibet bonus code, you must enter it correctly when prompted to do so. Failing this, you won't benefit from the advantages it offers.
Unibet bonus codes are usually promotion-specific and you can only use each once. Not all codes are available on the website. Once you've registered, you may receive additional promotions by email, each with a unique Unibet promotional code.
Do I get more if I install the Unibet sports betting app?
Unibet understands the convenience that mobile apps offer, which is why it has a Unibet app available to its customer base. Using this app allows you to register, deposit, wager, and withdraw funds at your leisure, while on the go, or at home.
The Unibet Android app is downloadable from the Unibet website, while Apple users can access the Unibet sports betting app for iOS devices in the App store. The Unibet app bonus for new signups is the same as the bonus for new players using the desktop version. The app maintains the same full functionality as the desktop site, with all your favorite sports and bet types available.
Review: Unibet offers NJ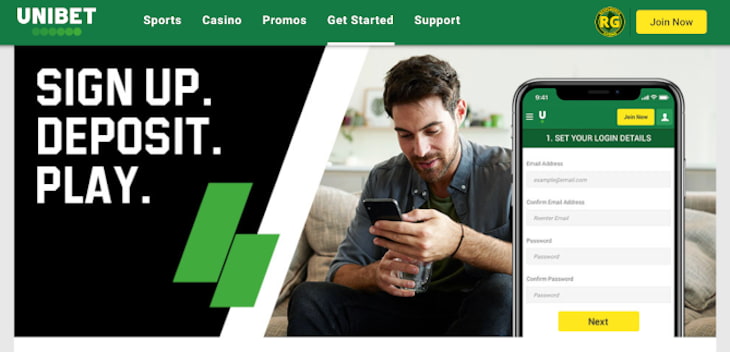 The sports betting industry is competitive, and sportsbooks use welcome bonuses extensively to attract new bettors. How does the Unibet offer match up? Our Unibet sportsbook bonus review looked at other popular sportsbooks in New Jersey to see how the Unibet welcome bonus measured up.
Several other sportsbooks in NJ offer second chance bets as well, but the terms and conditions for the Unibet offer are easier to meet than some of them. The main advantage is that Unibet has not added any wagering requirements and if you loose your initial bet, the refund will be in cash. Most of the other sportsbooks will offer your bet back in bonus bets, so you'll have to risk them again to see if you can withdraw your money.
Finally, in our Unibet sportsbook review, we've concluded that although it doesn't offer the most significant bonus, Unibet makes its welcome offer easy to obtain and uncomplicated to use.
FAQ – Unibet sports in New Jersey
In case you still have some queries about the Unibet Second Chance bet and welcome offer, these FAQs may have the answers you need.
What is the Unibet Second Chance bet offer?
When you sign up to Unibet for the first time, you receive the welcome offer of a Second Chance bet of up to $100. This Second Chance bet is available for new players in New Jersey and it can only be used on the first bet.
What are the Unibet Second Chance bet bonus terms and conditions?
To receive the Second Chance bet, register a new account and make your first real money bet (min. $10). If your initial bet looses and you'll receive your refund, there won't be any additional wagering requirements. You must be 21 years or older and physically in the state of New Jersey when wagering.
What is a Unibet promo code?
A Unibet promo code is a combination of letters and numbers that links to a specific promotion. You become eligible for this promotion when you accurately enter the code when prompted to do so. Promo codes may be available on the sportsbook website or emailed directly to qualifying bettors.
Can you play Unibet in the United States?
Unibet launched in New Jersey in 2019, followed by Pennsylvania, Indiana and Virginia. We expect the sportsbook to roll out further launches across the country soon, including Colorado, Tennessee, Michigan, and Illinois. Unibet hopes to be active in all US states with legal sports betting.
What do we think about the Unibet sportsbook bonus?
The welcome bonus from Unibet compares favorably with other sportsbooks operating in New Jersey. It doesn't require you to deposit a huge amount, nor does it have impossible wagering requirements. It's a fantastic chance for you to ease your way into sports betting.
How to get Unibet sportsbook bonus
Time needed: 4 minutes
To take advantage of the bonus, follow these simple steps.
Sign up

Register a new account with Unibet sportsbook, New Jersey.

Enter promo code

Enter your bonus code, if applicable.

Verify your account

Opt in to receive promotions, and verify that you're 21 years old.

Make your first deposit

Deposit funds into your account.

Start betting

Place your first bet of at least $10 and up to $100.