BetMGM Sportsbook is one of the leading U.S. based sportsbook services. Fans of any sport will enjoy the wide array of BetMGM sports betting markets available. There's something for everybody with all of the different BetMGM sports covered by this sportsbook.
Did you know that BetMGM is the official gaming partner of the Detroit Tigers? So if you are a Detroit Tigers fan, you'll be happy to notice a new BetMGM-branded scoreboard and you'll get to enjoy some team-centric offers.
Players in the Garden State will love the exclusive offers from BetMGM sportsbook NJ that cater to local players. That includes the BetMGM risk-free bet offer. Available to players in New Jersey, this promotion allows players to place a wager without the chance of walking away on a loss.
We want to help our readers get the best value for their gambling dollar, so we broke down this exciting BetMGM Sportsbook offer. Read on to learn all the details, as well as to take a look at other promotions and bonuses from BetMGM. And if you are looking for a specific topic, fast forward yourself to the correct subject by clicking the links below:
What is BetMGM sportsbook welcome bonus?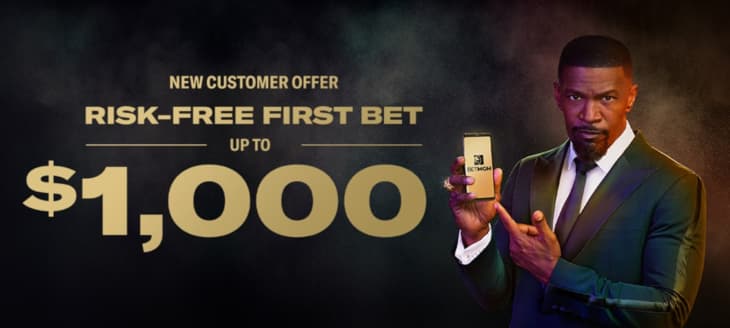 A good welcome bonus can make or break a casino from a player's perspective. After all, not getting the most lucrative welcome bonus available is like leaving free money on the table. Lucky for players in New Jersey, the BetMGM welcome bonus is one of the most generous around.
The BetMGM welcome bonus gives you a bonus as soon as you sign up and start betting. You'll get a $1,000 risk free-bet as part of your BetMGM sign up offer just as soon as you finish registration. That means that no matter which way your first bet goes, you won't lose any money.
Bet up to $1,000 risk-free today
BetMGM risk-free bet
The standard welcome bonus for sportsbook players in the Garden State is the BetMGM risk-free bet offer. This offer will let you place your wagers on BetMGM risk-free, guaranteeing that you'll walk away with something no matter which way the game goes.
Claiming the BetMGM risk free bet offer is simple. Make your first bet and if you win, great! You'll get your winnings normally. But, if the bet loses, you'll be awarded an amount matching your wager in free bets with a maximum of $1,000. This means that with this offer, your first bet of up to $1,000 on BetMGM is risk free. Even if your bet falls through, you'll still get a reward that can be put towards future wagers.
Ongoing promotions on BetMGM sportsbook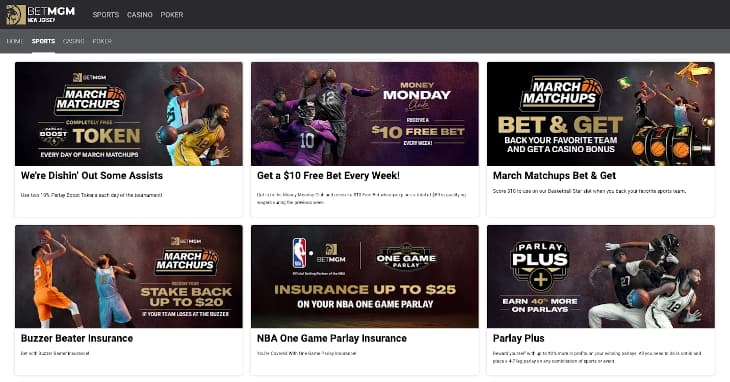 Even after you've claimed your welcome bonus and made your first bet risk-free, there are even more BetMGM promotions for you to take part in. You'll continue to earn rewards just from wagering on your favorite sports.
One of the most lucrative BetMGM Sportsbook promotions is the iRewards program. This VIP rewards program lets you earn points on your account with every wager you place on BetMGM Sportsbook. You'll rise through six tiers of rewards, earning points that can be exchanged at the BetMGM Loyalty Store or even for comps at land-based MGM Resorts establishments.
There are plenty of other BetMGM promotions for existing players to discover, such as insurance for your parlay bets and prize wheels with all sorts of rewards. New BetMGM promotions are being added all the time, so check out their website for the most up to date information.
BetMGM sports free bets and no deposit bonuses
There isn't a no deposit bonus for BetMGM Sports. However, your first deposit is virtually risk-free when you take advantage of the BetMGM welcome bonus.
Beyond the welcome bonus, BetMGM offers a $10 free bet every week to eligible players. To qualify, players simply need to bet a total of $50 or more in qualifying wagers over the past week.
BetMGM sportsbook promo code
You won't need a BetMGM promo code to claim the generous welcome offers awaiting you. Simply sign up for your account and you'll be eligible to start receiving these rewards.
You may receive further offers and BetMGM bonus codes via email after registering. Keep an eye on the email you used to set up your account to get any BetMGM promotional code you may need to claim future promotional offers.
You can also click the following link to find more sportsbook bonuses and promo codes in NJ.
Do I get more if I install BetMGM sportsbook app?
The BetMGM Sports mobile app lets you take all the excitement you'd get playing on BetMGM from a desktop computer with you on the go. You'll have access to all the same features using the app that you would by accessing the site from a browser on your computer.
In order to be as convenient for players as possible, there is a BetMGM Sports iOS app as well as a BetMGM Sports Android app. That means that just about any modern phone is compatible with BetMGM's mobile service.
You'll need to download the BetMGM app as part of your requirements to claim the $1,000 risk-free bet offer. Once you've set up your account, downloaded the app, and made your first deposit. Your first wager is backed by BetMGM so that you'll get something no matter which way the game goes.
Review: BetMGM sportsbook bonus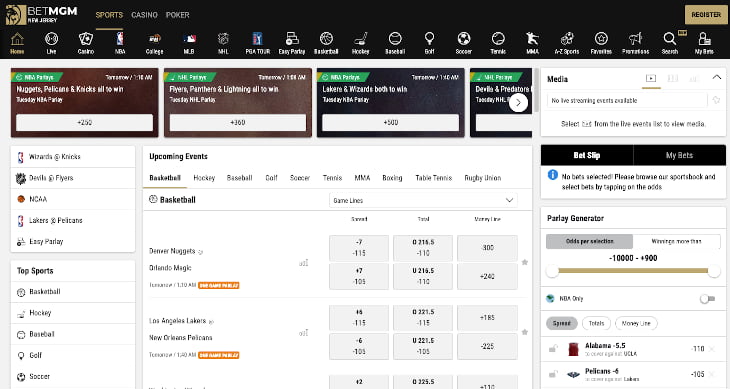 Overall, our BetMGM Sportsbook review team was impressed by the bonus offerings they found here. The highlight of our BetMGM Sportsbook bonus review was the risk-free bet offer for players in New Jersey. You can place your first bet of up to $1,000 with peace of mind, knowing you'll be awarded an amount of free bet funds equal to your wager even if your bet falls through.
BetMGM loyalty program iRewards is also worth mentioning. They really reward their loyal customers and you can get great additional bonuses that are actually worth some money.
FAQ – BetMGM sports in New Jersey
Have any more questions about using BetMGM Sportsbook in NJ? Check out our FAQ below for a quick reference.
What is the BetMGM risk-free bet offer?
The risk-free bet offer insures your first bet of up to $1,000 so that you won't walk away empty handed. Even if you lose your bet, you'll still be awarded an amount of bonus funds equal to the wager you put up.
What is a BetMGM promo code?
You won't need a BetMGM promo code to claim the welcome package and the risk-free bet offer. However, keep an eye on the email you use to sign up for your account for any future BetMGM bonus codes. The best bonuses usually come straight to your email.
What are BetMGM deposit options?
BetMGM supports a wide variety of payment methods. You'll be able to use VIP e-checks, Visa, Mastercard, American Express, Discover, PayPal, Skrill, and more. You can also link your bank account to your account to make deposits directly. Check out the BetMGM site for a complete list of payment methods.
What do we think about the BetMGM sportsbook bonus?
The BetMGM Sportsbook bonus offers available are some of the most generous that you'll find anywhere. One of the highlights is the fact that you'll be given a bonus just for signing up, before you've even risked any of your own money. There are even more great rewards you'll claim as you continue playing at BetMGM.
How to get BetMGM sportsbook bonus
Time needed: 4 minutes.
Claiming your first BetMGM Sportsbook bonus is as simple as following these steps:
Open website or app

Go to the BetMGM website or download the BetMGM app.

Sign up

Find the 'Register' option, which can be found in the top right of the page if you're using the website.

Confirm your email

Enter in all your account information and finalise your account by clicking the link you'll get to your email.

Make your first deposit

In just minutes, you'll have your new account set up and have access to your risk-free bet.

Start betting

Now all that's left to do is gamble away and have some fun.