New Jersey is the leading sports betting market in the United States, and one of the oldest operators in NJ is Bet365 sportsbook. Bet365 online sports betting has been available for all NJ gamblers since 2019 and the Bet365 sports offer for new users has attracted all types of players.
Bet365 sportsbook launched in New Jersey through a partnership with the Hard Rock Atlantic City Casino. This international operator needs no further introduction, it's a world famous brand that has a long history of success in the sports betting industry.
Bet365 NJ offers customers a wide range of betting markets and the Bet365 sports odds are very competitive. Even so, sportsbooks need to stay on top of their game. Recently Bet365 sports decided to ditch the old first deposit bonus and switch it to something far more interesting.
Continue reading this Bet365 sportsbook bonus review and find out what the new Bet365 free bet 200 offer is and how to claim it. We will also explain other ongoing promotions and offers you can get with Bet365 sports.
Bet365 welcome promotion in NJ – NEW OFFER

The new Bet365 welcome promotion will unlock a terrific offer that gives you free bets with $200 with just $1. Yes that is correct and not missing any zeros. This Bet365 joining bonus is a one of a kind in the New Jersey sports betting market and it's definitely worth taking advantage of.
All you need to do to get this Bet365 new account bonus, is to make a minimum deposit of $10 and make a $1 bet that settles within 30 days of registration. After the game has been played, Bet365 will credit the $200 on your account in free bets.
This amazing new Bet365 sportsbook welcome bonus is available to all new customers in New Jersey. Just remember to enter a promo code when making your first deposit. The Bet365 new user bonus code can be found right here on this site.
Bet $1 and get $200
What is the Bet365 sign up offer?
Some sportsbooks will give you a free bonus for simply signing up at the site, but the Bet365 sign up offer requires an initial deposit. Although, the deposit requirement is fairly nominal, since the Bet365 sports offer will be unlocked with only $1 wager.
Other terms and conditions of the Bet365 signup offer in NJ are also very reasonable. The outcome of the initial $1 bet doesn't matter and you'll get your free bets regardless if you win or lose. Just make sure that the bet has odds of -500 or greater and the bet settles within 30 days.
Even though we liked the previous Bet365 first deposit bonus that matched your initial deposit, this promotion is just over the top. With this new offer, Bet365 sportsbook gives every new player a great chance to get to know their product with a minimal investment.
COIN200 – Bet365 NJ promo code
Like many other sportsbooks, Bet365 uses promotional codes to unlock their bonuses. The Bet365 new user bonus code is COIN200. It opens the new welcome offer that gives you $200 in free bets when you bet at least $1.
This Bet365 NJ bonus code is exclusive at Coinflip.com and we are doing our best to keep you updated on the latest Bet365 promo codes. If we get more exclusive promo codes in our hands, we'll reveal them right here.
Other bonus codes for Bet365 can be a bit more difficult to find and once you have signed up, it's a good idea to subscribe to Bet365 newsletters. Providing the site with your email address will raise your chances to get a new Bet365 sports bonus code.
Bet365 NJ promotions – Ongoing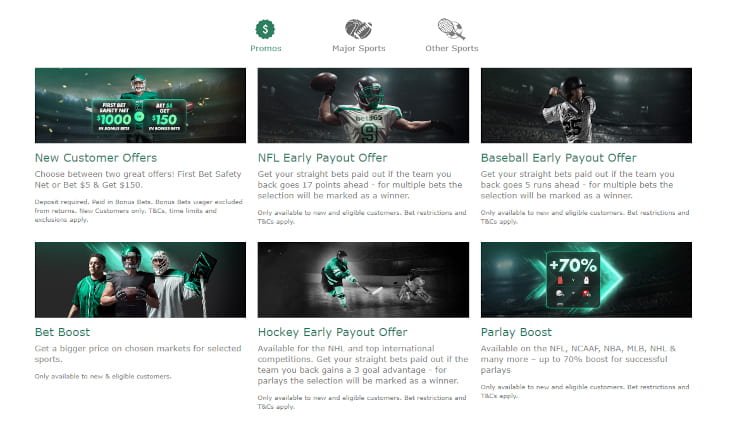 There are a number of Bet365 NJ promotions available to players, and all of them can be found under the "Offers" tab. These Bet365 promo offers include parlay bonuses or early cashout offers. The Bet365 bonus for existing customers is different for almost every week and very often there are multiple options available at the same time.
Continue reading about different Bet365 offer options below and find the best promotions for you.
Bet365 no deposit bonus and free bet offers
Free bets and other no deposit bonuses are other kinds of promotions sportsbooks offer in New Jersey. These are usually quite low value and difficult to cash out, but they are a nice addition. At the moment there is no Bet365 NJ no deposit bonus offer available and unfortunately the same needs to be said about the Bet365 free bet with no deposit required.
In any case, we'll update the latest Bet365 bonuses and free bet promotions right here on this page when they appear. Although, even if there isn't a Bet365 no deposit bonus available, there are several other bonuses offered at the site. Including the Bet365 parlay bonus that is available for existing customers.
Benefits of installing Bet365 sports app
Bet365 on mobile is very similar to the online site. All of the same functions and features are available for NJ players. The Bet365 app is extremely easy to use, and it is also extremely fast.
The Bet365 betting app is available on both Android and iOS devices. Just click the 'Get The App" tap on the website and download either Bet365 for Android app or the Bet365 iOS app. Using the mobile app can make your sports betting experience better or more enjoyable, but there aren't a ton of additional features provided.
Bonus offers and promotions are the same on every device, but it is still worth your time to download it. The live betting options from Bet365 will be much easier to use on the app. So if you like to bet on your mobile, we definitely recommend downloading the Bet365 sportsbook app.
Review: Bet365 sports in NJ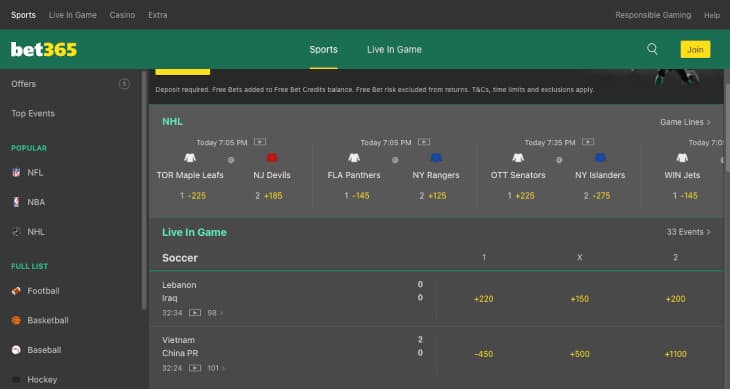 This Bet365 NJ review highlights some of the most important aspects of the welcome offer, and it's a great bonus to take advantage of. Creating a Bet365 new account entitles new customers $200 in free bets when they wager just $1, and these free bets can be used to wager on all of the available markets. Just remember to use the Bet365 NJ promo code COIN200 to get the offer.
Compared to other sportsbook welcome promos in NJ, Bet365 definitely stands out with this new promotion. All other sportsbooks are offering either second chance bets or deposit matches, but Bet365 sport had the guts to try something different.
This being said, our Bet365 sports review comes to a conclusion that we think everyone should take advantage of this amazing bonus. We fear that this Bet365 offer might be even too good and they could change it again to something a bit more affordable for them. But enjoy it while it lasts and click the button below to claim the Bet365 sports offer in NJ.
FAQ – Bet365 offers in New Jersey
A few questions and answers about Bet365 sportsbook in NJ:
What is the Bet365 signup offer?
Bet365 sportsbook welcome offer is a great bonus that will give you $200 in free bets when you wager at least $1 on the site. The minimum deposit to unlock the offer is $10 and the $1 bet needs to be settled within 30 days.
What are the Bet365 welcome offer terms and conditions?
To receive the $200 free bets, the $1 bet needs to be settled within 30 days and the odds need to be of -500 or greater to qualify. Free bets will be credited within 1 hour after the initial bet has been settled and they will be available for 90 days.
What is the bonus code for Bet365 NJ?
Bet365 uses bonus codes on their website.The current promo code to unlock the newly updated welcome offer is COIN200 and it's available only for new accounts. Use the bonus code when you are making your first deposit at Bet365 sportsbook in NJ.
What are Bet365 deposit options?
Bet365 has all the biggest and most common payment options including: Bank Transfer, Prepaid Card, ACH/Echeck, PayNearMe, Skrill, Credit/Debit Card and many more. All the deposit methods have an instant processing time and no additional fee is charged.
What do we think about the Bet365 sign up bonus?
The Bet365 sportsbook sign up bonus is a great way to get started at the site without investing a lot of money. By wagering just $1, you'll get to continue betting with $200 and this bonus is something we can easily recommend for every player in New Jersey.
How to claim free bets on Bet365 in New Jersey
Time needed: 5 minutes.
Taking advantage of the Bet365 Bet Credits offer is as simple as completing a few steps. Some Taking advantage of the Bet365 free bet 200 offer is as simple as completing a few steps. Some sportsbooks make this process more complicated than others, but it's quick and easy at Bet365 sportsbook.
Sign up

Click any of the links provided on this website and register for an account at Bet365 sportsbook.

Enter bonus code

Enter the bonus code COIN200 when making your initial deposit at the site.

Make your first deposit

Make a minimum deposit of at least $10.

Start betting

Find the sports and games you like, make a bet that is at least $1 and continue playing while you wait for your $200 to be credited.