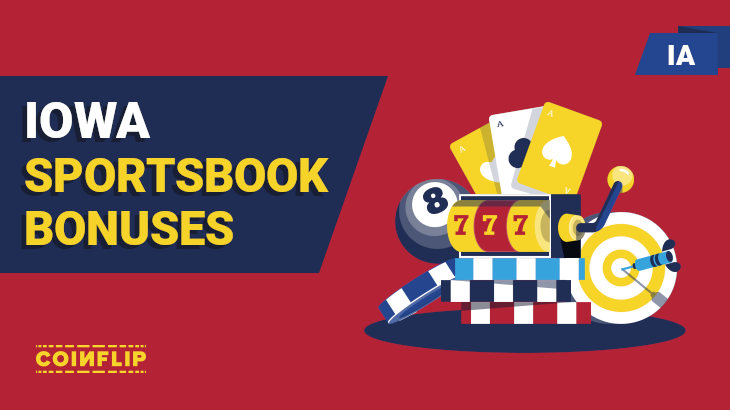 Iowa's sports betting has been legal for a while now; however, Iowa gambling in-person registration was required before bettors could wager on their favorite team. That changed on January 1, 2021, and since then you could claim your Iowa sportsbook promos completely online.
Below you can see a list of our Iowa sports betting bonus options. If you are not sure which offer to take, continue reading our guide for finding the best Iowa sportsbook promo.
The change in in-person registration legislation has made it more straightforward to start playing in IA online sportsbooks and exploring the variety of great Iowa sports betting bonuses. The best way to start is to learn more about the different types of Iowa sports betting promos and see what would be the best Iowa sportsbook for you.
Read more about your Iowa sportsbook bonus options or jump to a specific topic by clicking the links below:
Online sports betting bonuses in Iowa
Iowa started early with legal sports betting; in 2019, it was one of the few Midwestern states to make online and retail sportsbooks legal. Iowa's sports betting bonuses started then, too.
The Hawkeye state legalized sportsbooks in a staggered manner. At first, bettors had to go to a venue to register in person for an online sportsbook account, which changed at the beginning of 2021 when it was made possible to register online. With relatively low taxes and licensing fees, Iowa has been good to operators and players alike.
The Iowa online sports betting sites that the Iowa Racing and Gaming Commission (IRGC) has licensed are amongst some of the best around. Only few other states have allowed this many operators to launch and that's why there are all these great Iowa sportsbook promotions to choose from.
In Iowa, online sports betting is steadily becoming more popular with the residents, increasing competition between online sportsbooks. As such, bettors now have improved welcome offers available to them. Between the online sport betting bonuses, Iowa laws being relaxed, and easy access to online sportsbooks in Iowa, bettors have rarely had it so good.
Iowa sportsbook sign up bonus
There are a few types of sportsbook welcome bonuses Iowa players can take advantage of, mainly relating to deposits or free bets. The best sportsbooks will have a welcome offer or bonus available to new customers, where they provide you with either a second chance bet or a bid to match your registration deposit. We'll discuss these bonus differences, and their strengths or weaknesses, below.
In Iowa, online sports betting sign-up bonuses are usually added to your account after signing up with your personal information and making your first deposit. We recommend that you first read this review to choose the online sportsbook with the best Iowa betting promos for you.
As mentioned above, Iowa sportsbook sign-up bonuses fall into a few types. First, there is the deposit bonus; then there are the second chance bets, the no deposit bonus, and the free bet bonus.
Please remember that all bonuses come with terms and conditions attached, so don't accept a bonus without first reading them. Otherwise, you might find yourself in a position where the offer is voided.
Iowa sports betting deposit bonus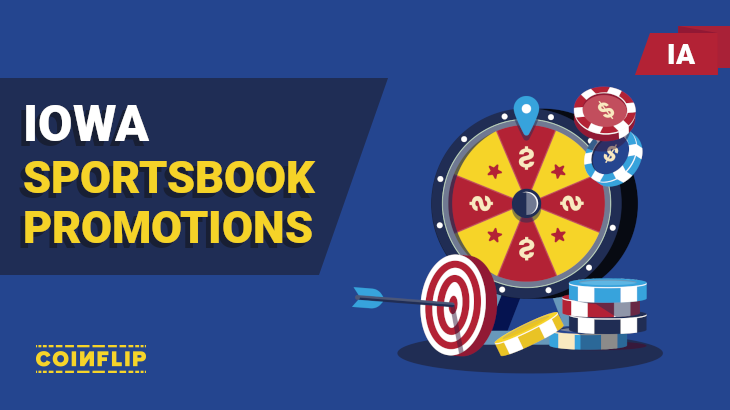 Like in the rest of the US, in Iowa, sports betting deposit bonuses are also known as deposit match bonuses, where the online sportsbook adds a percentage of your first deposit to your account.
These Iowa sportsbook deposit bonuses usually cover anything from 10% to 100% , up to $1,000. This means that the sportsbook will add the stated percentage of your first deposit, but only if your deposit is at or below $1,000. So if your first deposit is $500 and the match percentage is 100, it will add a further $500 to your account for use on the website.
This type of deposit match bonus Iowa is similar to the free bets offer, as the money added to your account cannot be cashed out and can only be used for betting at that sportsbook.
Second chance bets in Iowa
In Iowa sports betting, second chance bets are also offered as a welcome bonus, as these bets usually apply to the first bet only. This bonus means that if your first bet falls under a specific limit and loses, the sportsbook will reimburse you for the loss.
If the online sportsbook offers a $500 second chance bet, and your first bet is under that amount and loses, the sportsbook will reimburse you with the amount you lost in credits to use on the sportsbook. Again this bonus cannot be cashed or played elsewhere, making it similar to the free bets bonus.
The sportsbooks that offer an Iowa second chance bet usually are subject to one more condition – the bet placed must not be on a favorite, or the odds must be -200 or greater to qualify. We recommend that you pay particular attention to the latter clause as it limits what your first bet will be.
Iowa sports betting no deposit bonus and free bets
In sports betting, the Iowa no deposit bonus is another popular welcome offer; it's genuinely a free bet that requires no deposit from you. You receive this bonus once you register for a real money account, and the free bets offered can be anything between $5 and $25, depending on the sportsbook.
The terms and conditions that apply to this Iowa bonus bet typically have a time limit that applies to when the bet is won or lost, not when you place the bet. So it cannot be used for sporting events too far in the future.
It typically has to be used for one wager only and cannot be split between many bets. Lastly, if the bet placed using this bonus wins, you'll get the winnings but not the stake amount.
There is yet another bonus in Iowa: free bets. This promotion is not to be confused with the no deposit or deposit matching bonuses though they're similar in many ways. With this offering from Iowa sportsbooks, free bets are usually not limited to a losing wager like a second chance bet is.
So if the offer is 100% up to $500, and you bet $500 on your favorite team as your first wager, the sportsbook will match that amount even if your team wins. Like with no deposit bonuses, there's usually is a time frame provided to use that bet; and again, if the wager is a winning one, you don't get the stake as part of your winnings.
How to find the best sportsbook bonus in Iowa
The best sportsbook in Iowa is usually a personal preference, but the best Iowa sports betting bonuses all have a few things in common. They all offer the player extra opportunities to gamble in one way or another, and they're all mutually beneficial to the player and the operator.
This means that the best Iowa sportsbooks offer bonuses that have real value and the offers are what they seem to be. Therefore, the best IA sportsbook bonus has a reasonable wagering requirement – or no requirements at all – and enough time for you to make your bets as you like without a need to make rushed decisions.
Top Iowa sportsbook bonus in December 2023
Every month we choose the top sportsbook bonus 2023 offers in Iowa. Below are a few of the reasons behind our choice of the best Iowa betting site and their welcome bonus.
The sportsbook operator is new on the market
They offer a higher premium than average
There are additional offers available
The bonus on offer is geared to a specific need that is of interest.
The top Iowa sportsbook bonus in December 2023 is the ClutchBet sportsbook welcome offer. All new players have a chance to get a free bet up to $200. Click the link below and use code CLUTCH200 to claim your ClutchBet sportsbook bonus Iowa.
Iowa sportsbook promo code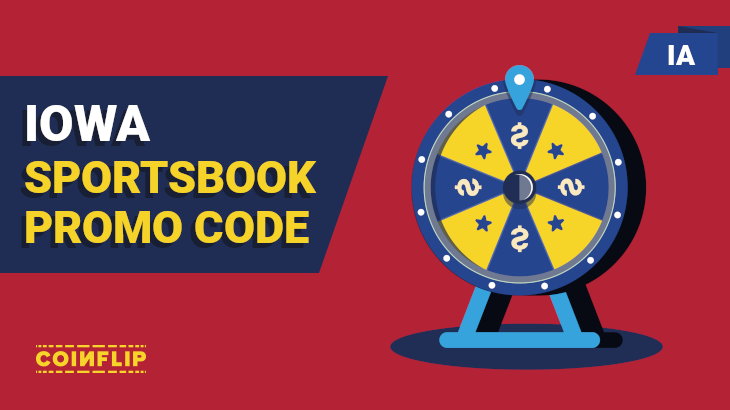 Iowa sportsbooks face a lot of competition, so they offer bonuses and promotions to attract new customers. IA sportsbook promo codes or bonus codes can make welcome offers for new customers even better, but they're not restricted to new customers.
So what are Iowa sports betting bonus codes? They are usually words or combinations of letters and numbers that you can enter either when you sign up at the IA sportsbook site, or when you make your first deposit. Make sure to check where the IA sports betting bonus code needs to be used so you won't miss your promotion.
The promo code is used while new customers sign up, but customers who have already registered get notifications about new promotions and offered the opportunity to take them. Find our current Iowa sportsbook promo codes and offers below.
Iowa sportsbook reviews
You can find a list of sports betting bonuses available on the top of this page. however, if you are not yet sure which one to choose, check out our Iowa sportsbook reviews. We have made comprehensive articles of each of the sportsbooks promoted on this website.
In these IA sportsbook reviews we explain all the Iowa sportsbok promos offered on the betting site and the most relevant terms and conditions tied to them. You can also find out if there's a loyalty program available and where you can download the operator's mobile app.
Check out these Iowa sportsbook reviews and find out the perks of each betting platform.
Are you also interested in online casino bonuses in Iowa? Click the link below and read more:
FAQ – Iowa sports betting bonuses
Here are a few questions and their answers we get asked frequently about Iowa sportsbook bonuses:
Which Iowa sports betting sites give bonuses?
All top IA sportsbooks offer some form of bonus, and most have at least one welcome offer and promotion for existing customers. There are many sportsbooks available to customers, and one of their best ways to attract new customers is by having a very attractive bonus – which is in your favor.
Why should I take Iowa sportsbook bonuses?
Iowa sports betting promos are a great way to extend your bankroll and add value to your account. However, we encourage you to gamble responsibly by first reading the terms and conditions of the bonuses before accepting them, as this can impact your bets validity.
What is the best Iowa sportsbook welcome bonus?
The best bonus is the one that suits your needs; there are a lot of bonuses available. So check out the list of the best Iowa betting sites on top of this page to find the one that you like the most. We also pick our own favorite promo every month and you can find it here.
What is an Iowa sportsbook deposit bonus?
A deposit bonus is when online sportsbooks offer to match your first deposit or add a percentage of that deposit up to a limit. If it's 100% up to $1,000, and your first deposit is $1,000, the sportsbooks will match that, giving you a total of $2,000 to use on-site.
Where can I find betting promo codes Iowa?
If you are looking for best Iowa sports betting bonus offers that can be unlocked with bonus codes, you have come to the right place. We have listed all the best Iowa gambling sites and bonuses at the top of this page.
How to get a sportsbook bonus in Iowa
Time needed: 5 minutes
How to claim your Iowa sportsbook welcome bonus in steps:
Choose your sportsbook

Check out the Iowa sportsbooks promo codes here and click the link.

Sign up

Then sign up with valid personal information

Verify you account

Confirm your sign up information

Make your first deposit

Deposit funds into your account and remember to use a bonus code if applicable

Start betting

And then it's time to gamble away with your first wager!
Must be 21+. If you or someone you know has a gambling problem, call 1-800-BETSOFF.