TwinSpires sportsbook in no longer operating in the state of Michigan. However we have plenty of sportsbooks to choose from, so check out our other sports betting promotions in Michigan.
TwinSpires Sportsbook was established in 2021 under the ownership of Churchill Downs Inc., which has its origins in horse racing, dating back almost 100 years. TwinSpires betting is comprised of a sportsbook, casino, and dedicated horse race betting platform. It's one of the most trusted sportsbooks in Michigan.
The Michigan TwinSpires is fully licensed for online gambling within the state boundaries. Upon signing up at TwinSpires, you're given the TwinSpires promo code BET1000, which will qualify you for the $1,000 risk-free welcome bonus. Once you've registered, the bonus is automatically awarded, and there is no need to claim once you have entered the promo code. Continue reading about TwinSpires sportsbook in Michigan or click the links below.
TwinSpires sportsbook welcome bonus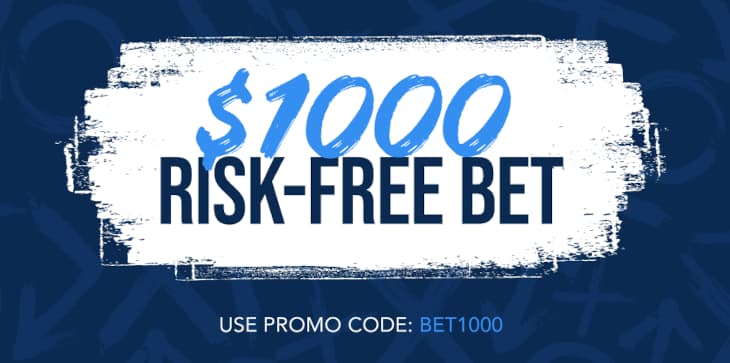 The TwinSpires signup offer/bonus is generous by any standards. TwinSpires will refund you all of your lost wagers, up to the value of $1,000 in free bets, for the first seven days of your membership. This isn't only applicable to your first lost wager but stands for every lost wager until you reach the maximum of $1,000.
The TwinSpires welcome bonus must be used within the seven-day period, and refunds are awarded as free bets and can't be withdrawn. Any winnings derived from these free bets can be withdrawn at any time. There's no other wagering requirement or obligation. There are no excessive playthroughs and no hidden terms related to TwinSpires bonuses.
Ongoing TwinSpires sportsbook promotions in MI
There are several ongoing TwinSpires Sportsbook promotions. Some of them offer you an insurance where you can get some refunds for your losses. Some give you additional free bets when you bet on other sports evens, and some offer you a boost for your odds.
TwinSpires has several ongoing promotions all the time. Sometimes it's hard to stay on track with them, so the best way to check the current offers is to head to their website. One thing seems to be sure though, there will be an offer for every kind of player.
TwinSpires risk-free bets, free bets, and no deposit bonuses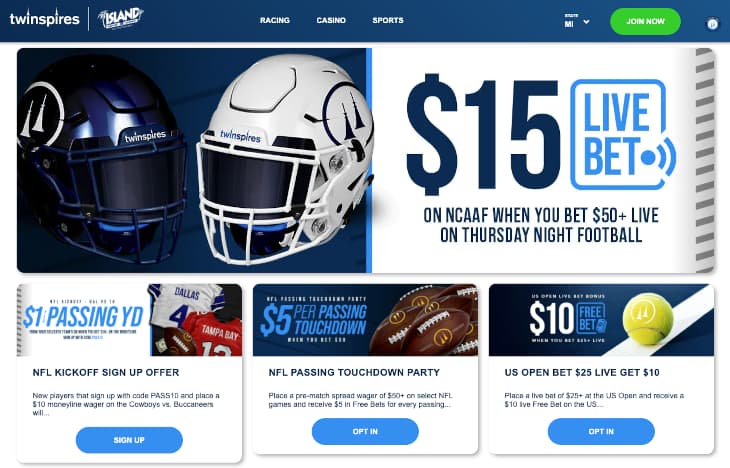 The TwinSpires risk-free bet is only applicable to the welcome bonus. TwinSpires' free bets are available on several promotions, notably the EPL bet builder, NFL bet 10 get 10, and MLB live bet bonus promos. There were no TwinSpires no-deposit bonuses advertised at the time of this review, but keep an eye on your emails and remember to grab one if it appears.
TwinSpires sportsbook promo code 2022
The only TwinSpires promo code isBET1000, which is used for the welcome bonus on signing up. There are no TwinSpires promotional codes required for any of the other regular promos. You are merely opt-in for each one. We also recommend you to opt-in for the TwinSpires weekly newsletter, since the best offers, and promo codes, usually come straight to your inbox.
Should I install the TwinSpires mobile app?
Yes, you should definitely install the mobile app. The TwinSpires mobile app is designed specifically for use with mobile devices. The mobile app has all the features and functions found on the desktop version and is every bit as good.
The TwinSpires app for Android is downloadable from the Google Play store. For iOS devices, you can download the TwinSpires app for iPhone from the App Store.
TwinSpires MI sportsbook review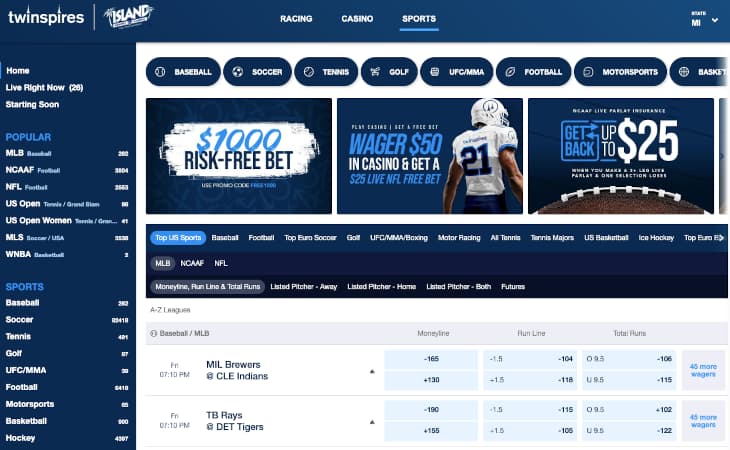 While this isn't an exhaustive TwinSpires sportsbook review, we will focus on the welcome bonus and promotions. No TwinSpires MI review would be complete without stressing just how amazing the welcome bonus is. They will refund your first losses of up to $1,000 in the first week of your membership.
For a moderate sports gambler, you can't lose in your first week. Even more impressive is that there are no obligations other than that you must use the bonus within seven days. That seven-day-rule is also something that we have not seen before. All the other operators have insurances for just the first bet and maybe a couple of more, but still nothing compared to this.
We think this is definitely one of the best sportsbook offers on the market. This offer doesn't try to make you bigger investments than you actually want. You can make several smaller bets within the first week and they are all insured, but you can also make just one $1,000 bet. Your choice! Start your risk-free week at Michigan TwinSpires by clicking the button below.
FAQ – TwinSpires sportsbook in Michigan
We answer some of the frequently asked questions about TwinSpires sportsbook MI. Hopefully, our answers will be of value to you:
What is the TwinSpires sportsbook promo code in 2022?
The only promo code required is for the risk-free welcome bonus. The code isBET1000 and is entered during the sign-up process. Using the code is optional, although we can't think of any reason you wouldn't want to use it.
What are TwinSpires sportsbook welcome bonus terms and conditions?
The terms and conditions for the welcome bonus are refreshingly simple. You will be refunded up to $1,000 on your lost wagers for the first seven days. That includes all lost bets, not just your first. The only actual condition is that you must use this within that time.
How can I sign up for a TwinSpires account in Michigan?
Go to twinspires.com on either your desktop or mobile device. On the homepage is a green "join now" tab. Clicking on the tab will take you to the sign-up screen. Complete your details and enter the sign-up promo code. You'll need to provide a photo and your SSN.
Does TwinSpires sportsbook have an Android app?
Yes, there is a TwinSpires mobile app for Android devices. This app is available as a free download from the Play store. It carries all the features and functionality of the desktop version. There is also a TwinSpires app for Apple.
What do we think about the TwinSpires sportsbook bonus in Michigan?
We think it's brilliant! The TwinSpires welcome bonus is among the best to be found on any sportsbook. It also comes with no hidden terms or excessive playthroughs and rollovers. We will refund you your first lost wagers up to $1,000 in free bets. It doesn't get much better than that.
How to use the TwinSpires sportsbook promo code in Michigan
Time needed: 4 minutes
Using the promo code at TwinSpires is simple. This is what you do.
Head to the website

Go to twinspires.com on either your desktop or mobile device.

Sign up

On the homepage, click on the green "join now" icon.

Enter your details

Fill in your personal details and come up with a strong password.

Enter bonus code

Enter the codeBET1000, and finish the rest of the form. Submit your application.

Start betting

You're now ready to gamble and you can place your risk-free bets.