Maximum 2 refunds
Credited Bonus Bet must be used within 7 days
Only the winnings from a successful Bonus Bet will be credited
Bonus Highlights
Risk-free bet

Up to $2,000

Multiple offers for you
Download app now

2 other offers

Sign up today
PointsBet is a world famous sportsbook that is finally available for Michigan players. All new players can choose from three different welcome offers.
PointsBet Michigan is a unique online sportsbook that provides a variety of different markets. It first launched in Australia back in 2017 and has quickly spread to other countries. PointsBet sportsbook prides itself on being the leader in US sports betting, offering many unique markets not available on any other sportsbooks.
When considering this online sportsbook, you can select a PointsBet bonus upon registration. So make sure to keep an eye on the promotion code that suits you best. Continue reading about PointsBet Michigan or fast-forward yourself to a specific topic by clicking the links below.
PointsBet welcome offer – 3 exclusive options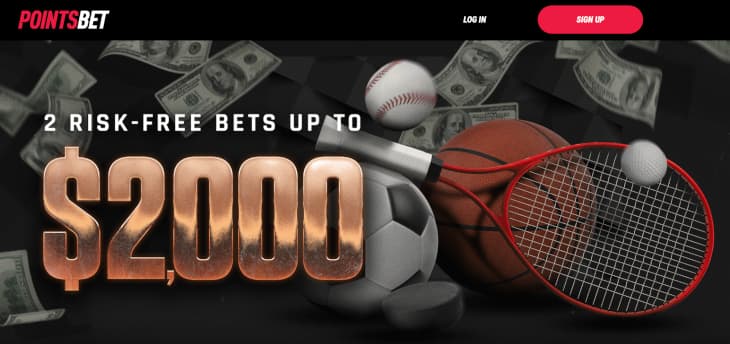 When signing up for an online sportsbook, it is essential to factor in the welcome bonus and promotions offered. Most online sportsbooks only provide one welcome offer, while PointsBet offers three different welcome bonuses that new customers can choose from.
The PointsBet welcome offer system has a lucrative list and ranges from risk-free bets to deposit bonuses. It is safe to say that the PointsBet sign-up offer has something for everyone.
Promo codes at PointsBet Michigan
It is very common for an online sportsbook to offer a welcome bonus upon registration; this is an offer that would attract bettors to sign up on the site. A promotional code is a particular set of numbers or letters that provide you with a welcome offer. These are targeted at new players and give you a taste of how the sportsbook operates. You can tell what kind of sportsbook you are choosing based on its welcome offers.
Once you've signed up with PointsBet and used your welcome offer, you may still receive promotional emails that will provide you with more PointsBet bonus codes that you can use. There is no shortage of offers that are available as a PoinsBet customer.
PointsBet makes signing up for a new account an easy process. Once you have started setting up your PointsBet account, make sure you input your unique promotional code. At the moment, PointsBet offers three enticing promotions. The PointsBet promo codes are FLIPVALUE, FLIPHIGH, and FLIPMAX. Let's have a look at these offers individually to see what they provide for players.
FLIPVALUE – PointsBet deposit bonus promo code
This PointsBet deposit bonus is a match bonus and will apply to the first deposit you make. Your deposit will determine the value of the bonus you receive; the PointsBet value is a tiered deposit system. This PointsBet deposit match offers up to $250 in free bets. To qualify for this bonus, you will need to meet one of the set deposit requirement. Once you've made your deposit, your free bet will be awarded to you within 60 minutes, and you will be able to use it on fixed-odds markets. You can choose how much you want to deposit and the bonus amount depends on that.
Deposit $50 and get $100 extra (200% bonus)
Deposit $150 or more and get a 100% match up to $250.
FLIPHIGH – PointsBet risk-free bet promo code
This PointsBet risk-free bet welcome offer is only available to customers over 21 residing in Iowa, Indiana, New Jersey, Michigan, and Illinois. This offer includes four PointsBet risk-free bonuses up to $1,000. These range from two refunds worth $250 in free bets each, should your fixed bet be a loss. Additionally, there are two refunds up to $250 in free bets each if your parlay bets are lost. This PointsBet high bonus is refunded within 24 hours of your bet settlement.
FLIPMAX – PointsBet risk-free bet promo code
PointsBet max bonus for this offer is up to $2,000 and is eligible for two refunds on your bets should they lose. The first PointsBet risk-free bet is worth up to $1,500 in free bets for your first wager, and the second PointsBet risk-free bonus will be worth up to $500 in free bets for your first fixed price wager. These refunds will be credited within 24 hours of your bet settlement.
Ongoing PointsBet promotions in Michigan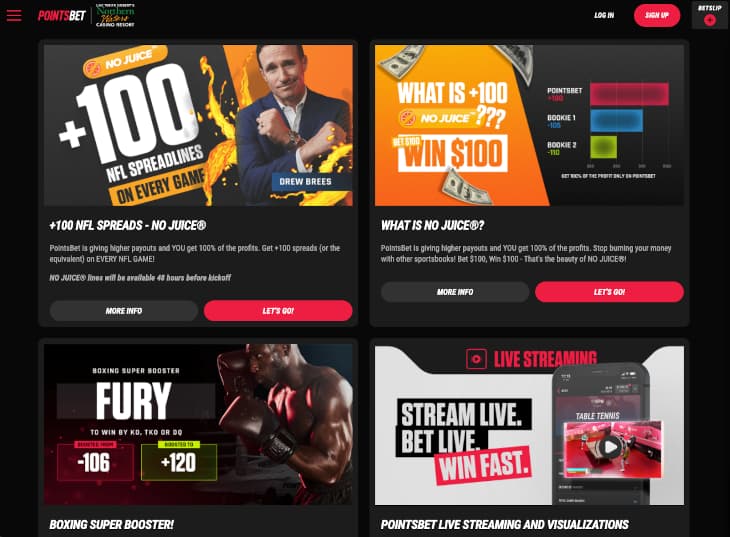 When visiting the PointsBet site or app, you can look at the dedicated promotion page to see many PointsBet promotions that you may take part in. The PointsBet promo page is full of offers on specific markets or related to deposits. Such as PointsBet free bet offers and a PointsBet no deposit bonus.
Ongoing PointsBet offers are usually valid for a certain game or short period of time, so we recommend you to check the up-to-date offers straight from the PointsBet Promotions page.
Although, PointsBet does have some continual promotions as well. Of course there is the welcome offer but they also have a Refer a Friend promo. When you get a friend to join PointsBet, they'll give $100 free bet for you and your friend once the friend has deposited at least $50.
PointsBet sportsbook mobile app
The PointsBet mobile app is available on both Android and iOS devices, which offers more convenience than using a browser on your phone. The menu on the left-hand side is where you will be able to find all contests and leagues available to bet.
It also has a very modern and accessible interface, and compared to other apps; it is very responsive. The PointsBet app is suitable for bettors on the go as you can bet from anywhere with ease.
PointsBet Michigan review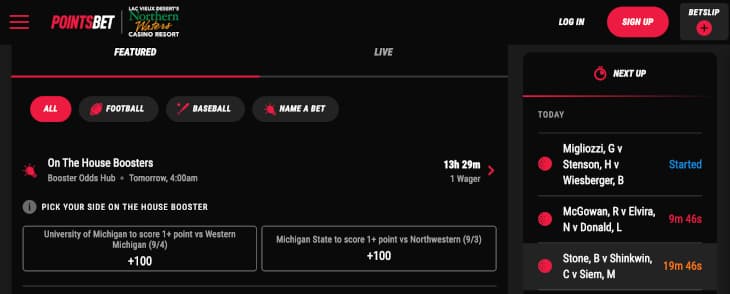 In our PointsBet Michigan review, we have discussed this sportsbook's history. Compared to other online sportsbooks in Michigan, PointsBet offers more significant bonuses, various betting choices, and an extensive selection of promotions. In our PointsBet bonus review, we have explained the bonus options that would be available to any player, ranging from newcomers to re-occurring players.
In conclusion, we think PointsBet Michigan is definitely one of the top sportsbooks on the market. We can easily recommend it for new sports bettors but it also meets the requirements of more experienced players. Betting options are endless, mobile apps works smoothly and the site looks and works great.
FAQ – PointsBet Michigan
Let's look at some FAQs to conclude this PointsBet review highlighting their bonuses and accessibility relating to their site.
What is the PointsBet Michigan welcome offer?
There are three leading welcome offers available that you can claim with promotion codes when signing up. These are a tiered deposit bonus of up to $250 and two risk-free bets ranging from $1,000 to $2,000, respectively.
What is the PointsBet promo code in Michigan?
The three welcome bonus promo codes that players can choose from are FLIPVALUE, FLIPHIGH, and FLIPMAX. These offers need to be added to your account when signing up to PointsBet Michigan to be redeemed. Once signed up, you can take advantage of one of these offers.
Should I Install the PointsBet sportsbook app?
Yes, the PointsBet sportsbook app is convenient for everyday bettors. It is an easy-to-use application that you can effortlessly navigate through. The app is available on both iOS and Android devices, allowing all players to have access to it and enjoy the online sportsbook from the comfort of their phones.
What do we think about PointsBet offers in Michigan?
PointsBet online sportsbook has many lucrative offers available. Ranging from deals on specific markets such as the NFL point spreads to deposit bonuses, new and occurring players can benefit from an abundance of offers.
Can you play casino at PointsBet?
Yes, you can play casino games. PointsBet Michigan added casino gaming to its site in May 2021. On-site, you can visit the casino section to play various slot games, roulette, blackjack, baccarat, and video poker.
How to claim PointsBet sportsbook bonus in MI
Time needed: 5 minutes.
When claiming your bonus upon registration, you will just need to follow just a few simple steps:
Choose your bonus

Make sure to choose your favorite welcome offer from the three choices offered, FLIPVALUE, FLIPHIGH, and FLIPMAX.

Sign up

Input your code when filling out your details on the registration page.

Deposit

Follow the terms of your promotion, depositing, or placing your risk-free bets.

Gamble away

Enjoy your free bets!