BetMGM is wholly owned by MGM Resorts, which in turn has its origins in the Metro Goldwyn Mayer film studios. The MGM group has concentrated its interests in resorts and gaming since the late 80s, introducing its online casino and sportsbook some years later.
In this BetMGM review Washington DC, we look at some of the sportsbook's features, bonuses, and promotions. Continue reading or jump straight to a specific topic by clicking the links below.
What is the BetMGM Sportsbook welcome promo?

Most online gambling sites feature a welcome bonus for new players, however this is not always the case in Washington DC. Since this state has a lot less competition than most states, sportsbooks are not pressured to give out big bonuses automatically. Although, this doesn't mean there isn't any promotions available.
Currently there isn't a BetMGM welcome promo offers to new members. However, all new players will automatically join BetMGM Rewards in DC and that is one of the best loyalty programs in the US. Continue reading and find out how you can join one of the best sportsbooks there is.
BetMGM Rewards
As mentioned, all new BetMGM DC players will automatically join the BetMGM Rewards. This is a loyalty program that gives you benefits, and the more you play, more you get back. BetMGM Rewards have five Tiers and you can clime up those steps by being an active player.
So what do you get as a basic BetMGM DC player? All Tiers can enjoy the benefit of Birthday bets, Anniversary Bonus bets and you will earn points by playing. Those BetMGM points can then be used for other benefits. Naturally, these rewards get better on each Tier level and the top players will get a highly personalized gambling experience and great bonuses with BetMGM.
Are you ready to join BetMGM sportsbook DC? Click the butt below to start your journey with BetMGM Rewards
Join BetMGM DC here
Ongoing promotions on BetMGM sportsbook DC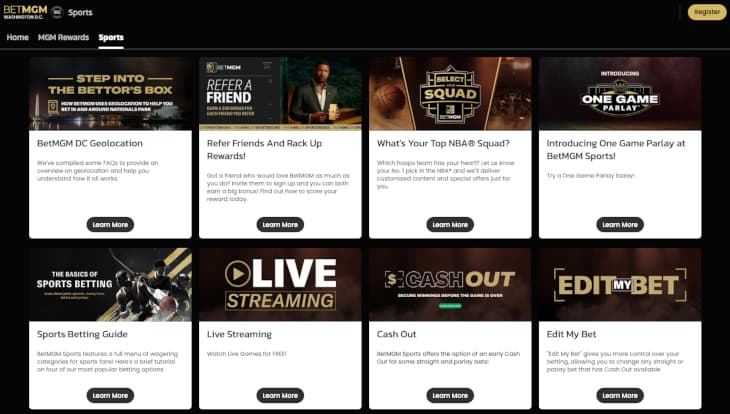 At the time of writing this review there are several ongoing sportsbook promotions at BetMGM DC. For example, the Refer a Friend promotion will boost your and your friend's accounts.
On signing up, you're automatically enrolled into BetMGM's loyalty program, as mentioned earlier. This system is the biggest benefit and the easies way to get BetMGM DC promotions. Read the whole Rewards description at the BetMGM website and see what benefits you can get on each tier level.
As you progress through the tiers, your iRewards Points earning rate increases. Automatic inclusion in this program means you earn points every time you play, right from the first bet.
BetMGM no deposit bonuses
Apart from the Monday Money Club, BetMGM no deposit bonuses appear in selected sports at various times. A BetMGM bet bonus can be triggered on certain games, depending on how much you have wagered in the previous week.
It's also good to keep your eyes out for the other BetMGM no deposit bonuses. Those bonuses might be rare, but be sure to opt-in for BetMGM weekly newsletter so you don't miss out if (and when) there is a no deposit bonus available.
BetMGM sportsbook promo code
BetMGM promo codes are not easy to find, and it looks like they are mostly giving them up. It's so much easier for players to just opt in for bonuses when they are logged in than remembering to enter the BetMGM bonus codes when making a deposit. Just sign up, click the promotions you want to claim and you have secured your bonuses.
However, a BetMGM sportsbook promo code may become available on occasion. As you qualify for other promos, the relevant codes will be given to you for those specific games.
Why should I install the BetMGM sportsbook app?
The downloadable BetMGM sportsbook apps are designed specifically to work with your mobile devices and have different interactive features to the parent website. Your mobile betting experience is greatly enhanced when using the Android or iOS BetMGM mobile app.
When placing a bet at BetMGM Washington DC, you need to be within a two-block radius of The Nationals Park Stadium. We highly recommend every DC bettor to download the BetMGM mobile app to ensure the smoothest betting experience in that designated area.
Review: BetMGM sportsbook DC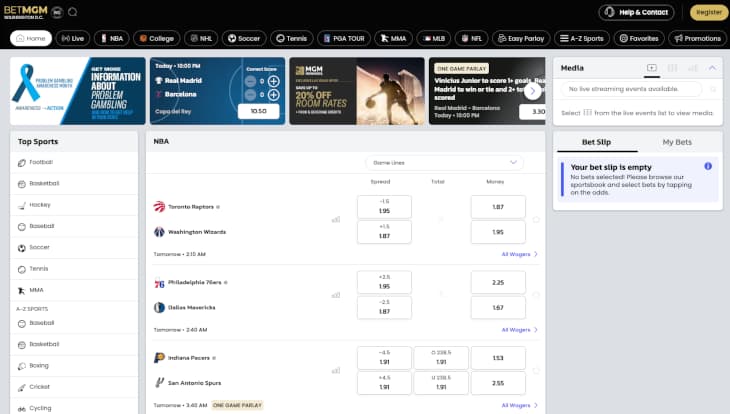 In this BetMGM sportsbook review, we looked at how it compares to other sportsbooks in terms of bonuses and promos, available sports and markets, security, and other factors.

The loyalty program definitely makes BetMGM stand out in DC. In terms of the number of sports offered, BetMGM is average. There are other sportsbooks that offer a larger variety of sports to bet on. In terms of betting markets within those sports, again BetMGM is adequate, but not the leader.

BetMGM offers a reasonable number of options for transactions, although not as many as other sportsbooks. As with many other DC sportsbooks, cryptocurrencies are not accepted as a transaction method. On the other hand, they do offer all the most common payment options, such as PayPal and Play+.

Your personal information, funds, and all transactions are protected by a secure, encrypted system. BetMGM conforms to all US and State gaming legislation. One of the most interesting legislation related things is that players can register and deposit from anywhere, but they need to be within a two-block radius of The Nationals Park Stadium when placing a bet.

This BetMGM review would not be complete without seeing how its mobile apps fare against the competition. Both the Android and iOS mobile apps are functional and easy to use. They have the same possibilities and features as the desktop version and there is no additional bonuses when using a mobile app. Anyway, we recommend installing the app since you need to be close to the Nationals Park Stadium when making your bets.
FAQ – BetMGM in Washington DC
We answer some frequently asked questions below:
Can you bet on BetMGM in Washington DC?
Yes, you can, provided you are in the state of Washington DC while doing so. Your mobile device and desktop will be screened by geolocation software to confirm that you are within DC. If you're attempting to access the sportsbook from outside of the state, it will be denied.
What are BetMGM's welcome promo terms and conditions?
BetMGM Washington DC is currently not offering any welcome promos for new players. However, we know that they have previously offered a new player bonus so always check the current situation at the BetMGM website or app. On the plus side, all new players will automatically join BetMGM Rewards.
Should I install the BetMGM mobile app?
Definitely. The app is designed to work on mobile devices, and its interactive properties are far better than that of the website version on a mobile device. It's also easier to navigate through the app on a tablet or mobile phone.
What do we think of the BetMGM sportsbook in DC?
We think it is one of the best sports betting sites in DC. BetMGM is one of the biggest sportsbooks in the world and we can always be sure that they play by the rules and provide a safe and secure betting environment. We also appreciate the great benefits you can unlock by climbing up BetMGM Rewards Tiers.
How to start betting with BetMGM sportsbook in DC?
Time needed: 5 minutes
Joining BetMGM sportsbook DC is simple, this is what you need to do.
Sign up

Open your account on the BetMGM sportsbook site

Fill in your details

Enter your personal details as required

Deposit

Head to the payments section and make your first deposit

Start betting

Get yourself within a two-block radius of The Nationals Park Stadium to place your bet and play